Although Lifestyle Lawns are a newly formed business, our Director Matt Petheram has over 12 years' experience in the landscaping industry. Matt has helped establish one of New Zealand's major artificial grass suppliers. He has extensive knowledge and experience in multiple artificial applications from manufacturing to installing. We like to make sure only the best and most realistic grass is being installed, so rest assured, you've come to the right place!
Matt's passion is teaching people the installation application, he always offers his time, passion and skill to meet with anyone to help them fully understand the process, teach them roll plans, correct product selection and of course all the tricks he has learnt over many years.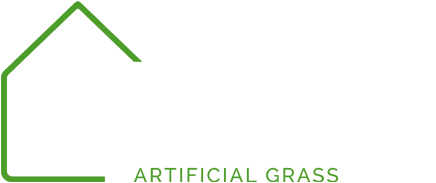 A huge thank you to Matt and his team for creating the most beautiful garden. The workmanship and professionalism of the Lifestyle Lawns team was like a breath of fresh air. And the dogs just love it.
We love our synthetic / artificial lawn and can highly recommend the Lifestyle Lawns products. We have two dogs and two young children and have found the grass to be hard wearing whilst always looking it's best. Matt is reliable, easy to deal with and worked really hard to get us a great finished result. We love showing our lawn off to everyone who comes to visit!
Lifestyle Lawns were easy to deal with through the whole process from providing the original quote, arranging a suitable date to finishing the works and leaving the place in a tidy state. Well done to Matt and the Lifestyle Lawns crew.
Matt was fantastic to deal with. He was very knowledgeable and has a real passion for his products. He was very clear at explaining the features and took the time to break down the process of the installation, as we NEVER thought we would have artificial grass and were a little bit nervous. We are so happy with our lawn!! We would highly recommend Matt and Lifestyle Lawns for any sized job.
All I can say is WOW!!! We and our two boxer dogs love love love the new lawn it looks amazing and feels so lovely and soft in bare feet. Matt and his team are so knowledgeable, passionate and very professional. Highly recommended this awesome product!!! We are the envy of our neighbours!! 😁 Thanks again!!!!
We chose to use Lifestyle Lawns as they are a local family operated business and it was a great choice! From start to finish they were super helpful, friendly and punctual. The grass itself looks realistic, vibrant and so soft to touch. It was awesome to work with Matt who was extremely enthusiastic and excited in what he does and certainly had the knowledge to back it up! We are absolutely stoked with the end result. 10/10 😃
Lifestyle Lawns team popped over and boy did they go above and beyond. The job they did was fantastic and left the place very tidy at the end! We are super grateful for the help we had from Matt bloody legend! Thanks guys! You deserve more than 5 stars keep the good work up!
We would very much like to thank you Matt for the information and helpful advice when we were doing our landscaping!! After your help the decision to go ahead with the Artificial Grass system has been our highlight within our landscape plan. The positive comments we have received have been really rewarding. We wish you the very best in the future!! your personality and enthusiasm will carry you through. Thankyou.
We highly recommend Matt and Lifestyle Lawns for a lifelike product and great customer service. We have a large property, and two distinct areas totaling about 50 sqm near the entrance where real grass struggled to grow due to a large macrocarpa hedge, clay soil underneath, sun angle, lack of water, and foot/dog traffic. We decided to install artificial grass after seeing how good it looked on a neighbor's property. We looked at every product offered in Christchurch and decided that Lifestyle Lawns' grass looked the most lifelike. We could not be happier with our choice. Matt provides the best customer service and was always there to answer questions and give advice as we built the base ourselves. Matt and his team came to install on the Friday before Christmas and the work was quick and flawless. The lawn is soft underfoot, looks quite real (has fooled a few visitors so far) and requires no maintenance. Our dogs love it, and I no longer have to worry about clothes getting dirty when something falls off the washing line. And now that summer is here and everything is brown on the hills around us, we smile every time we walk out our door and see these patches of green. Highly recommended.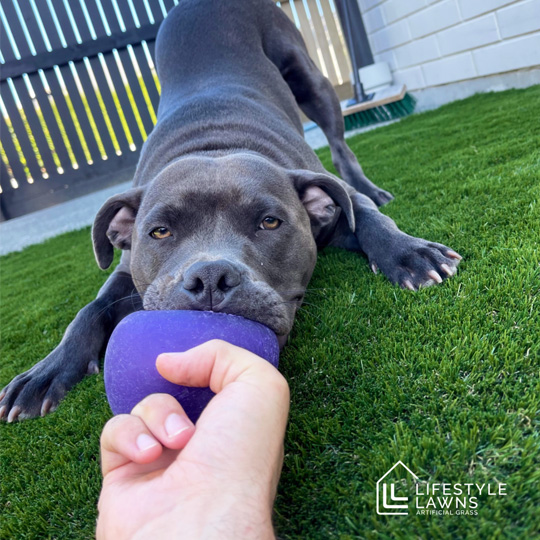 Matt was amazing to deal with. His team turned up on time and delivered a perfect result. Have used them twice now and will be back if we need another area done.
Great experience, Matt and the team were quick to get back to us and really know their stuff! Great communication and product, really happy with the turf, looks amazing! Thanks again.
We recently engaged Lifestyle Lawns to install their products at our clients property and were blown away with the result. A flawless install, great service, topped by one of the most realistic products on the market- if you're in the market for artificial turf, Matt and his team should be your first and only stop!
After extensive research we decided to choose Matt at Lifestyle Lawns to lay our imitation grass. Matt's knowledge and communication is second to none. We couldn't be happier with the completed job and the skill and knowledge of Matt we wouldn't hesitate to recommend him.
Great product. Matt an his team always go above an beyond His wealth of knowledge is amazing an the product is outstanding. The process was easy product looks great an seems durable compared to others out there. Would recommend to all!
As the owner of Visual Wonders Landscaping, we regularly install the awesome range of Synthetic turfs that Lifestyle Lawns have to offer. Not only are they are great product both in looks and quality, but Matt's wealth of knowledge and great customer service makes working with the team at Lifestyle Lawns a pleasure.
We have recently had Lifestyle Lawns amazing Villa 35mm lawn in our home. We absolutely love it as do our friends and family who have been over! Matt was so helpful and thorough throughout the whole process 🙂 Cheers Matt!
Matt was super helpful from the initial planning and end of our project in our backyard and answered any of our questions with ease. We absolutely love our new lawn, our vision was successfully achieved!! We are so pleased with our finished product! Thanks again Matt!!
Matt was amazing, he was very prompt coming back to me and dropping off samples. Grass looks amazing and love that it's maintenance free, So happy with the end result. Thanks team 🙏 .
Excellent service great products, was an excellent choice for our preschool. Now the children can go outside even after rain, and with its cooling technology the summer heat will not be a concern either. Super happy and looking forward to doing our nursery space too.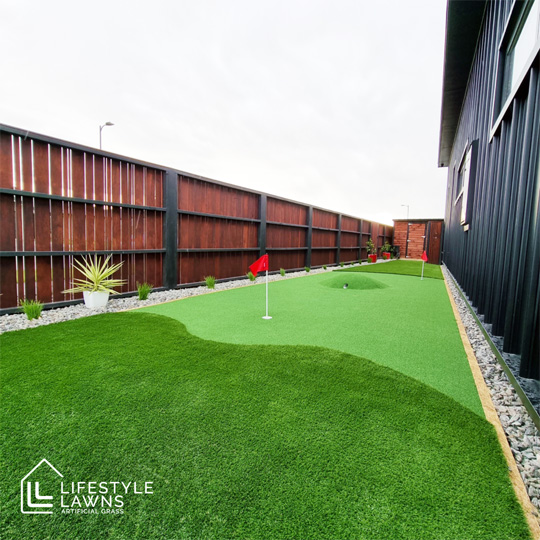 I highly recommend Lifestyle Lawns. Friendly, prompt service, great comms - responds to emails/messages almost immediately. They're also very cost competitive. The guys prepping and laying our artificial turf did it on an absolutely filthy day, screaming, bone chilling southerlies and driving rain. They worked through these horrible conditions even when I said it was OK for them to quit for the day. They told me they just wanted the lawn done and a happy customer. I was stoked and super impressed. They also prepped an area by our driveway that we could drive cars onto, and even laid our driveway pavers when that wasn't in the brief. Definitely recommend these guys.
Matt's communication with our landscaper & us through the project from start to finish was great! He sacrificed his time with his family to install our lawn in order to allow us to spend quality time with ours! Kids love it! Product & Service was 5 Star.
Excellent crew to work with. They did a fantastic job and the results are simply stunning. Great communication from the start to the end. We changed a few things along the way, and some aspects through some challenges but nothing was a problem for the team. So much appreciated. Highly recommend Lifestyle Lawns to everyone!
Matt and the team at Lifestyle Lawns have been nothing but professional and approachable, an amazing company to deal with. We love our new lawn, what once was an unusable space has now given us a fresh green piece of garden that we will always use.
Lifestyle Lawns have been fantastic to work with. Matt was such a great help, and the turf is lovely, it looks so good and has really revitalised our space. Thanks a lot!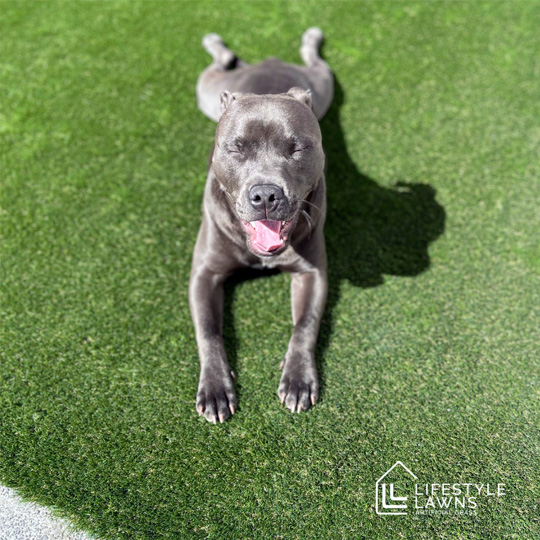 Very happy with our new lifestyle lawn! Looks great and can't wait to enjoy the space over the summer. Dogs happy playing on it and best of all no more mud from the dogs through the house!
The boys at Lifestyle Lawns were outstanding in transforming our space to a quality useable area. Professional and skilled, Matt and the team efficiently and promptly got the job done. We couldn't be happier with our result!
Matt and the team at Lifestyle Lawns did a fantastic job of our lawn! It has completely transformed our garden and we could not be happier. We had great communication from Matt - he's very knowledgeable in his product and gave us some great advice during the quoting process. The installation team did a great job too - they were punctual, friendly and did a quality job, leaving our garden neat and tidy once the work was complete. We would highly recommend Matt and his team!
Matt and his team have been an absolute pleasure to deal with, professional, punctual and with great attention to detail. As for the lawn, we chose the Villa 35mm + underlay over lots of ugly exposed ag concrete and we are really happy with it, the kids love it and the dog does too! - what more could you ask for?
Amazing service and an amazing product! We couldn't be happier with our new lawn and the overall experience we had with Lifestyle Lawns. Matt was super easy to deal with and helped us decide which product was best for us and our little pup. Misha, who installed the lawn was great as well. I would highly recommend Lifestyle Lawns to anyone and will certainly be using them again in the future. Thanks team!!
WOW we had no idea how much a big beautiful grassed area would change our life! The three kids, golden retriever and cat couldn't be happier! It looks and feels amazing. We will never go back to regular grass and we cannot recommend Lifestyle Lawns enough! Matt and his team were outstanding and Matt did everything he could to make this happen for us! Thank you!!!
Lifestyle Lawns installed our lawn two weeks ago and we have had so much use already. It is so inviting to go outside and enjoy it with our toddler and dog. Not only does it look amazing - luscious and green, is soft underfoot but is also practical, think no mud after rainy days, no weekends mowing! Would 100% recommend getting Matt and his team in to install your new artificial lawn!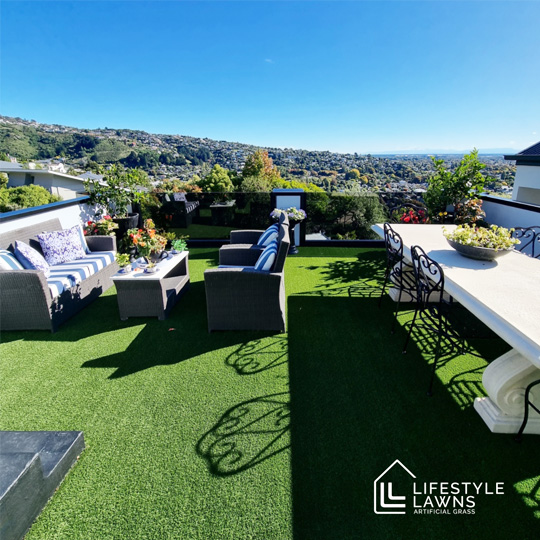 I recently had the pleasure of working with Lifestyle Lawns, and I must say that my experience was exceptional from start to finish. The team was incredibly friendly and hard-working, and the quality of their product was top-notch. What impressed me the most about Lifestyle Lawns was that their product was of the highest quality, but they did not charge an arm and a leg for it. The team was committed to ensuring that I got the best value for my money, and they worked tirelessly to deliver a final product that exceeded my expectations. The installation team was punctual, efficient, and professional throughout the entire process. They took great care in ensuring that my lawn was properly installed, and they made sure to clean up thoroughly after the job was done. Overall, I would highly recommend Lifestyle Lawns to anyone looking for a quality lawn installation. They have an awesome team that is dedicated to delivering a great product at an affordable price. If you're looking for a friendly and hard-working team that will get the job done right, look no further than Lifestyle Lawns!
We can't recommend Matt and the team at Lifestyle Lawns highly enough! Their turnaround on our project was within a week, and completed to the highest standard. They truly go above and beyond for their clients. Our dog, Maisey, loves her new area. We highly recommend Matt and the team!
Awesome product and great service, many summer days will be spent on our new immaculate lawn!
Absolutely thrilled with our before and after photos, Lifestyle Lawns transformed our space completely. Our small outdoor area is now functional and enjoyable, especially for our wee girl and the dog. Could not be happier and wish we did this months ago… HIGHLY recommend