Lifestyle RUFF 35mm is a high-quality synthetic grass lawn system developed with your pet's daily duties in mind. Whether you are a dog owner frustrated with muddy paws and brown spots on your lawn or a doggy day care, boarding kennel, or vet clinic, we've got the solution for you!
RUFF is designed for dogs in mind, from the fully recyclable backing, the pile height, density, yarn count to the fully permeable drainage system. It has been engineered to allow urine to freely flow through the backing. Our yarn has antibacterial properties which further mitigate odours, add Envirofill a non-toxic, antimicrobial infill which allows urine to drain right through. These two products make it ideal for dogs.
Soft on paws and gentle on fur, pets love playing, running, rolling around, and relaxing on RUFF as much as real grass, so there's no compromise between a stunning garden and a happy pet.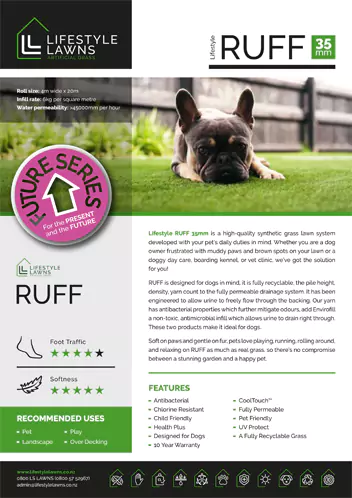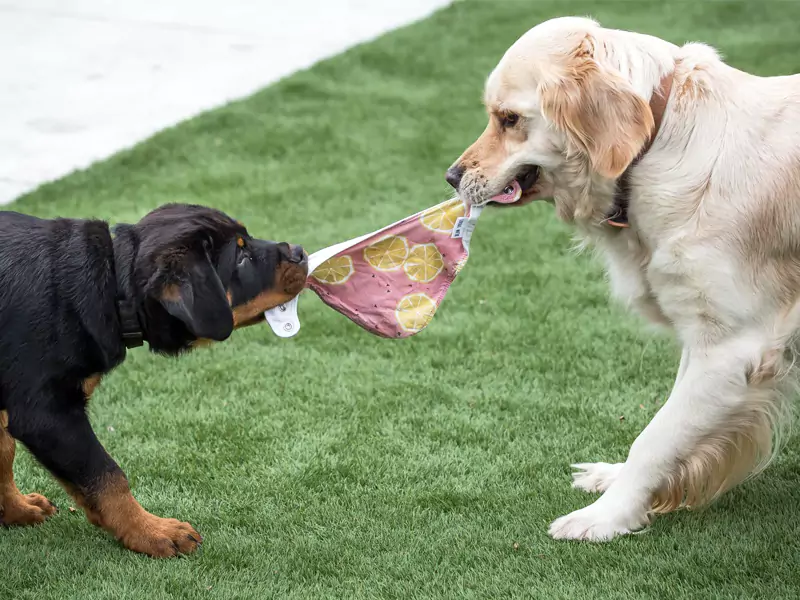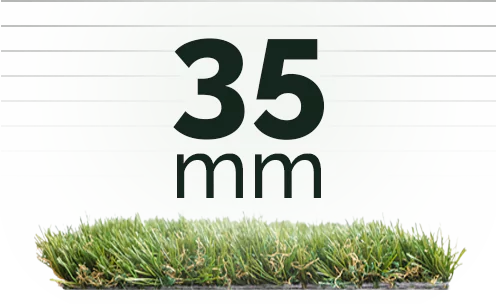 Pile Height: 35mm
Roll Size: 4m wide x 20m
Infill Rate: 6kg per m²
Water Permeability: >45000mm per hr
10 Year Warranty
Fully Recyclable Product
Our artificial turf stands out as a fully permeable solution, offering exceptional drainage capabilities that ensure optimal performance in various weather conditions. This innovative feature effectively prevents the accumulation of water on the surface, preventing puddles and enabling swift water flow. By allowing water to permeate freely through the turf.
"Artificial grass is where it is at. Two days of persistent rain, no puddles or mud!"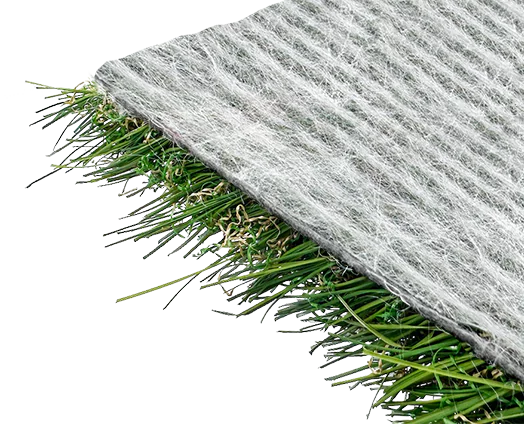 Order your sample here...

HELPS PREVENT THE GROWTH OF BACTERIA


CHLORINE & SEAWATER STABILISED

NEW fully permeable backing technology, NO holes

COMFORTABLE & SOFT TO TOUCH

HELPS PREVENT ODOURS AND BACTERIA GROWTH



DESIGNED BY KIWIS FOR DOGS

DOING OUR BIT FOR THE ENVIRONMENT