What's in your turf matters
Your Pet and Child Friendly Turf Infill Solution


Envirofill® is our non-toxic, pet and child safe turf infill solution that's designed to prevent bacterial growth and odours. It's the only synthetic turf infill with Microban® antimicrobial protection, which works continuously to help inhibit the growth of bacteria, mould, and mildew that can cause odours. Choosing Envirofill ensures your artificial lawn or dog park will be long-lasting, attractive, and odour-free.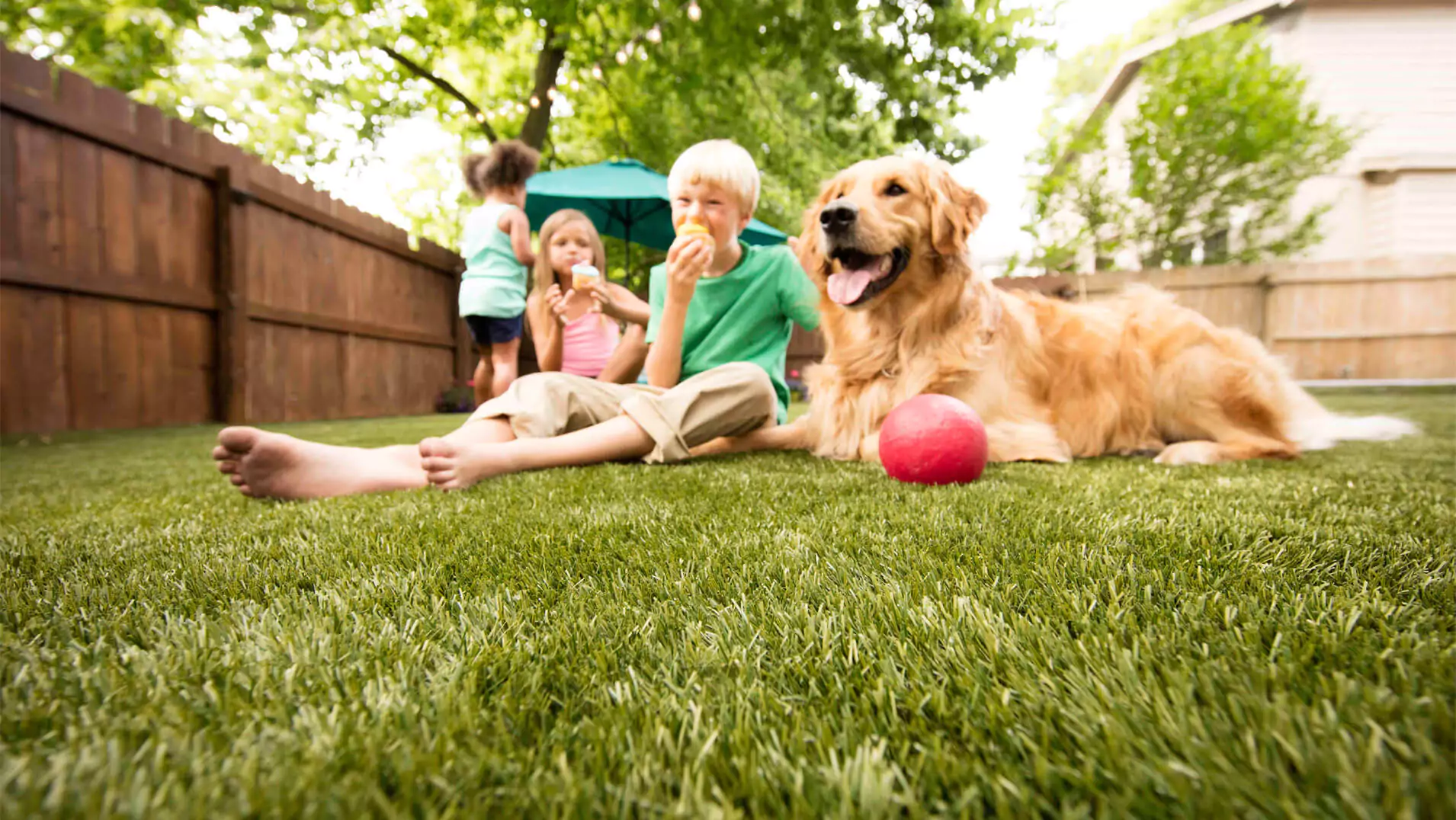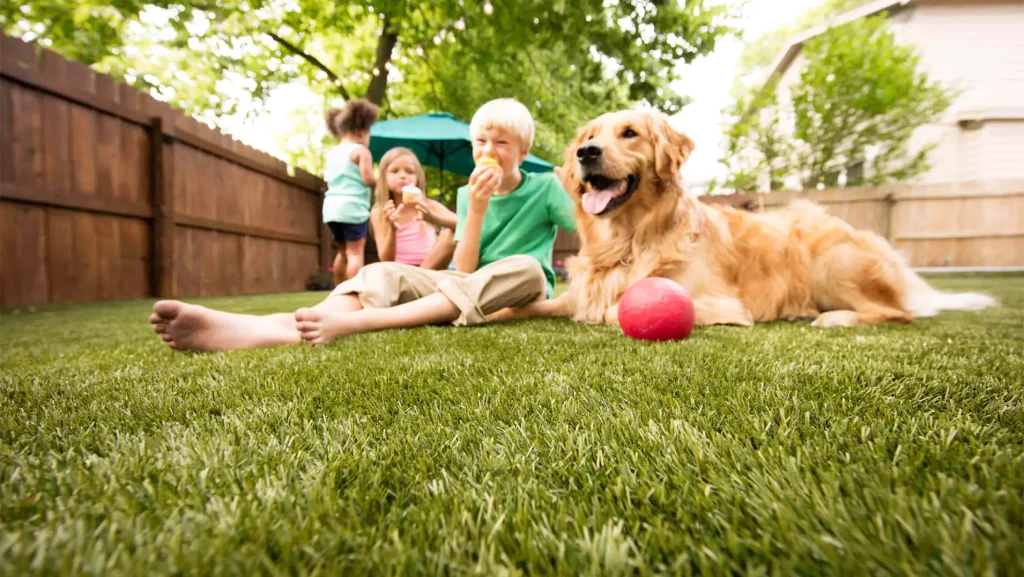 Why Pet Owners Love Envirofill
Envirofill was designed specifically for use by dogs. Artificial grass infused with Microban stays clean and hygienic.
It's been declared non-hazardous!
Envirofill's 16-year warranty means you can enjoy the perfect artificial pet grass for many, many dog years to come.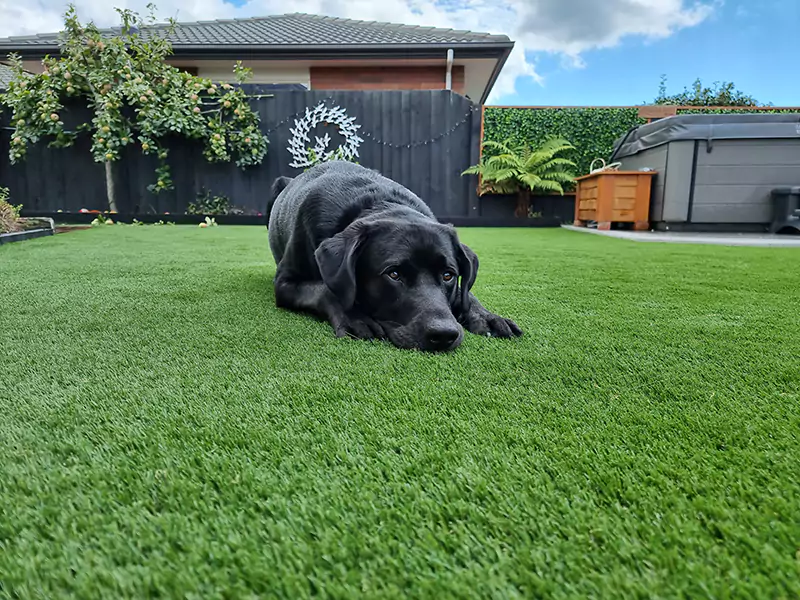 Here's why you should think twice -
before using raw sand for artificial turf infill
You've made the choice to install an artificial turf lawn, congratulations!
You may have known it was the right move for you all along or maybe it took some research and deliberation to decide. Either way, now you get to enjoy the perks of having a lush, year-round ready lawn to enjoy with your friends and family — and of course, your furry loved ones too.
But before you can host that party you've been dying to plan or catch some rays next to your luxurious pool, there is another big decision that needs to be made so you have a lawn that will last and more importantly, one that will work for you.
When it comes to pickling an infill, there are a lot out there to choose from. However, some options come with some not so great baggage you should be aware of — one of those being raw sand. In this blog, we're going to cover everything you need to know about choosing an infill and why choosing raw sand, especially, might not be your best option.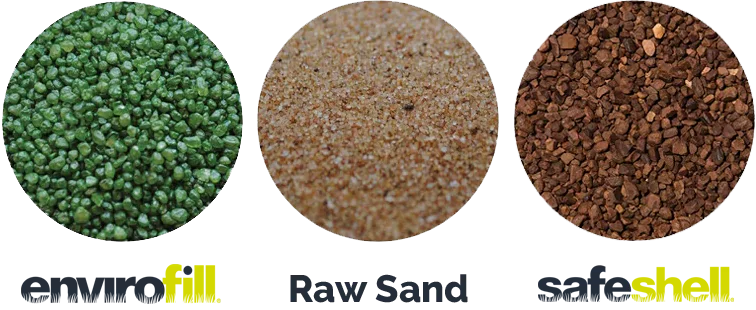 Why is Artificial turf infill important?
First things first. What's the purpose of infill anyway?
Microban is a permanent antimicrobial technology infused into the coating of Envirofill throughout a proprietary process. The Microban product protection Envirofill uses is ZPTech, a zinc-based antimicrobial technology. Envirofill's Microban technology is 100% encapsulated in the coating. It is a permanent component of Envirofill for the product's life, meaning it will not wash off, wear off, or decrease in performance over the years. By partnering with Microban, Enviro fill helps to prevent the growth of bacteria and microbes that cause stains, odours, and product deterioration. Considering that, on an unprotected surface, bacteria can double in number every 20 minutes, Envirofill, paired with Microban technology, packs a powerful punch by offering continuous antimicrobial product protection in your yard and on your sports field.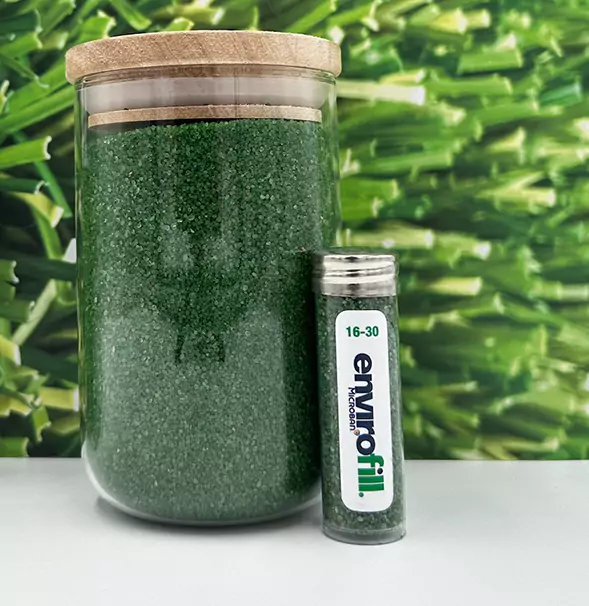 Things to keep in mind when choosing an artificial turf infill
When it comes to your home, your family, and your pets, you're going to have different needs to consider when picking an infill.
PET-FRIENDLY
Our pawed loved ones are like family, so of course, you want the best care for them. Choosing an infill that's non-toxic benefits both you and them — today, tomorrow, and in the future. Pets also love to roll around and ingest random things when they're outside, so having an infill that you know is safe will keep them happy and give you peace of mind.
KIDDOS
All parents want safe, happy kids, and your lawn should support that. Choosing an infill that's both clean and safe makes playtime one less thing you have to worry about.
ENVIRONMENTALLY-CONSCIOUS
Nowadays, this is a must for a lot of people. Luckily, there are infill options out there that do the job and take care of the environment too.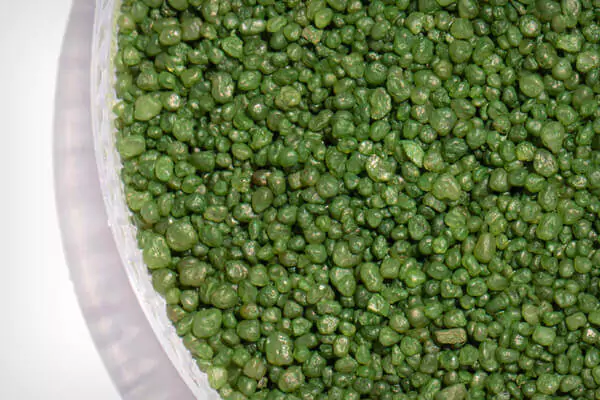 Disadvantages of Raw Sand Infill for Artificial Grass
Aside from health risks concerns, there are some practical reasons why you may want to think twice about choosing raw sand infill for artificial grass. 
RESTRICTED DRAINAGE
If your lawn doesn't have proper drainage, it can result in a whole host of problems. 
Turf rolls are manufactured with a holed backing that is concealed within the height of the turf fibers. Raw sand, especially when wet, can clog turf's drainage holes in the artificial turf backing so water has nowhere to go, leaving you with a watery, soggy mess.
IT'S MESSY
You know the feeling when you've been at the beach covered in sand and even with the utmost caution, it still manages to make it into your car, house, and everywhere else. It's annoying! Well, raw sand infill isn't any different. It gets into your clothes and spreads everywhere and with young kids, that is one big, time-consuming mess. 
WEED GROWTH
The last thing you want to see when you look out your window to your beautifully groomed artificial turf lawn are weeds. Sand infill is prone to allowing seeds to germinate so in the spring and summer months, you could potentially see some unwanted greens sticking out of your turf fibers. 
NOT CLEANLY AND RETAINS UNDESIRABLE FLUIDS
With kids and pets, cleanliness is key. Raw sand infill absorbs urine, blood, and even vomit so if there's an accident, your turf lawn takes the hit. And you don't want to have to worry about that.
Enter Envirofill & Safeshell
You want a synthetic turf infill that'll keep your family healthy and makes your life easier — and Envirofill® and Safeshell® do just that.
With Envirofill, you can be confident that you and your loved ones can enjoy a surface that's clean and safe, together. Envirofill is made up of pieces of coated sand with Microban® antimicrobial protection infused into every piece, during the manufacturing process, to help prevent the growth of bacteria and microbes that can cause stains, odors, and product deterioration. It's ideal for pets and children, and it's the cleanest turf infill around. In fact, Envirofill has been thoroughly tested and proven to be free of toxins and is even exempt from California's Prop 65 labeling requirements, which protects consumers in California by requiring companies to display warning labels on products with chemicals linked to cancer, birth defects, or other reproductive harm. Envirofill is one of the few synthetic grass turf infills on the market with this labeling exemption.




Why artificial turf with Envirofill is good for your pet?
We know you've been there. A big rainstorm just passed and your dog is sitting expectantly by the door, eager to get outside and play. But if you let them out now, you're certain to have a big, muddy mess to clean up later, and that's not something you have time for. 
With an artificial turf system there won't be any mud — meaning that, rain or shine, you're not going to see muddy paw prints inside.
To avoid a stinky yard as a dog owner, drainage is everything. Not all artificial turf or infills are optimised for drainage. That can mean a major odour issue for your yard, as well as making it a breeding ground for bacteria. 
Envirofill was specifically designed for homes and other spaces used by pets. While helping to prevent the growth of bacteria, mould and mildew, Envirofill's Microban technology reduces ammonia odour from urine by up to 99%. While Envirofill with Microban reduces pet odours, for the best results, you might want to occasionally use an enzyme cleaner on your lawn.
With Envirofill as your turf system's infill product, you can feel confident your pup is playing in a space that's free of harmful toxins. Envirofill's Microban (antimicrobial product protection) uses a Zinc-based technology to help fight bacteria without a need for noxious chemicals. Because Envirofill is nontoxic, it's also safe if accidentally ingested, making it an ideal infill choice for artificial turf play areas frequented by kids and dogs alike.
Okay, this one is maybe more so a benefit to you than your pet. But we all know how unsightly a yard can look when one area has very visibly become the "pee corner" or your pet's favourite spot to dig. An artificial turf system using Envirofill won't leave grass stains and will maintain its lush look, no matter the season and no matter how many games of fetch are played on it. For green spaces that are frequented by multiple dogs, that's an especially big perk!