If you're dreaming of spending more time sitting back, relaxing, and enjoying your beautiful outdoor space, and less time mowing, watering, and weeding your lawn, then artificial grass is definitely for you!
Artificial grass is an incredible, low-maintenance alternative to traditional lawns. While fake grass doesn't require much maintenance compared to real grass, it does require some looking after, if you want it to last in your home for years to come. One way to cut down on the required maintenance of artificial grass is to choose the right infill to suit your needs.
If you're only just taking your first steps into the world of artificial grass (or your first steps on artificial grass, as the case may be), then you might not be too familiar with infill, but that's no worries! We're here to help you find the best artificial grass infill to suit you, your family, and your space.
What is Artificial Grass Infill and Which One Should You Choose?
Artificial grass infill helps to prolong the life of your lawn, keep it looking fabulous, and cut down on maintenance!
There are dozens of infill options for artificial grass, but most fall under one of these three main categories; rubber infill (such as crumb rubber, virgin rubber (TPE, EPDM), and coated rubber); sand infill (including coated sand, dyed sand, and silica sand); and organic/natural infill (like walnut shells, fruit pits, cork, cork/coconut blend, and wood).
Infill is placed on top of the artificial grass to provide support and stability – it also helps your lawn to look lush and full! The infill helps to keep your lawn in place, it acts like a foundation for the fibres, helping to keep them upright, preventing breaking and fraying, and it makes your lawn feel softer underfoot.
When choosing artificial grass infill for your home, it is important to consider factors such as feel, look, durability, drainage, safety, and cost – here are some common concerns we discuss with families considering which infill is right for them: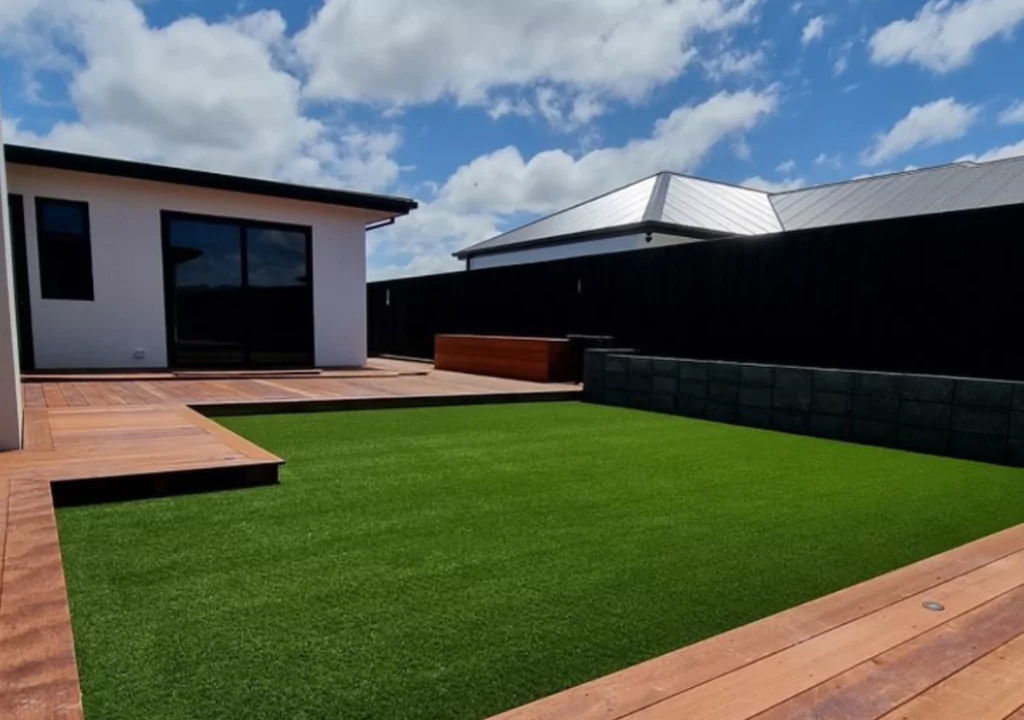 Family-friendly
We know that when it comes to choosing artificial grass infill for your home, your top priority is making sure it's safe for you, your children, and any furry family members who will play on your lawn.
If you have young kids, or dogs that enjoy exploring their surroundings with all five of their senses, you'll want to avoid harsh, synthetic infills. While none of our infills are recommended to be ingested, we do have pet-friendly and family-friendly options.
Our New Zealand-exclusive Envirofill artificial grass infill is the only pet-friendly turf infill that combats odours while maintaining longevity. An acrylic-coated, round quartz sand that comes from Central Texas, Envirofill is safe, clean, non-toxic and environmentally friendly.
During the manufacturing process, Envriofill is imbued with Microban® to help prevent the growth of bacteria and microbes that can cause stains, odours, and product deterioration which makes it ideal for pets, children, and athletes – it's the cleanest turf infill around!
Envriofill is a popular choice for pet owners, and it's incredibly durable – it even comes with an incredible 16-year warranty – it's just that good!
If you're specifically looking for an all-natural infill for your family, Safeshell's got to be the infill for your artificial grass! Made from US-grown black walnut shells, Safeshell is free from allergens and can be returned to the earth after use.
Unlike other organic infills, Safeshell stays in place, doesn't break down, float, or change in different seasons, and the round shape of each grain helps Safeshell to resist compaction.
So go ahead, invite all of the neighbours around for a BBQ, or a game of footy – Safeshell will keep your artificial grass looking its best all day long!
Environmental impact
While many people might assume that artificial grass isn't good for the environment, we've talked before about how this isn't the case! But, just like not all grass is created equal, not all infill is either.
If doing right by the environment is important to you, you'll be pleased to hear that all of our infill products have been designed specifically with the environment in mind. Envirofill, Safefill, and our very own Premium Recycled Infill have all been created to leave the smallest footprint on our planet, and then thoroughly tested to ensure that no harmful chemicals, or allergens, pose a risk to you, your family, or your environment!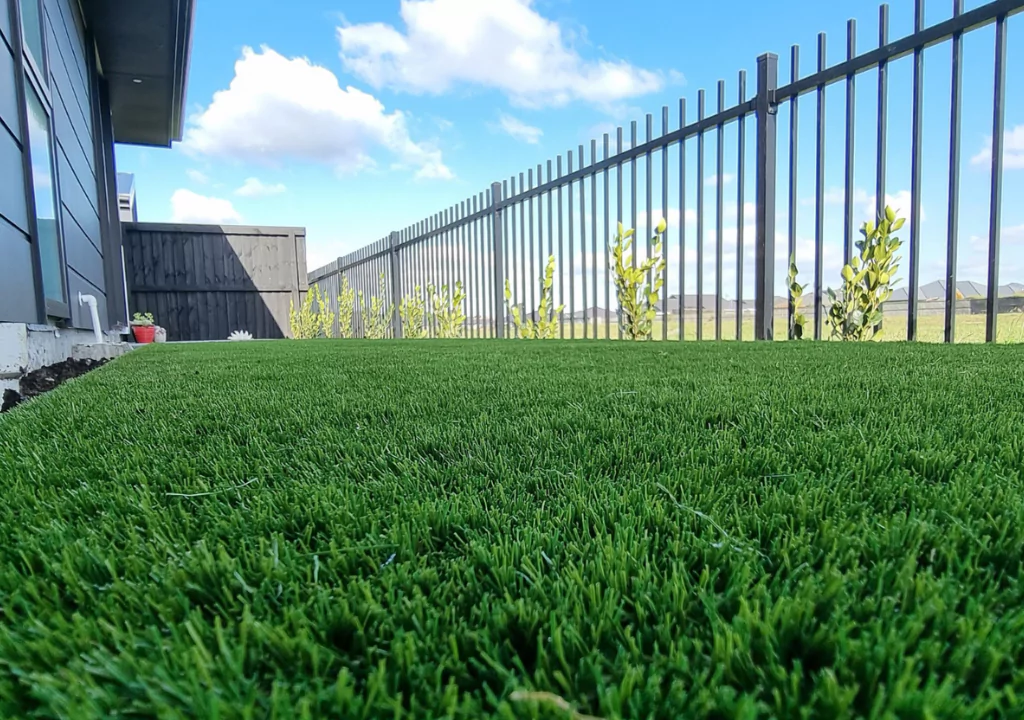 Cost
One common artificial grass infill is sand. While sand is low-cost and easy to obtain, we'd recommend looking elsewhere for your artificial grass infill. Regular sand can reduce the drainage of your lawn, which could lead to water pooling, unpleasant odours, mould, and bacteria buildup, it can also be harsh on feet, and make your lawn look brown.
Like most products, when it comes to quality, you really do get what you pay for with artificial grass infill. While other infill options like sand may cost less upfront, our products are designed specifically with your needs in mind, so that your lawn can look its best for longer!
Which artificial grass infill is right for you?
Whether your priority is to do right by the planet, or you've got young children, or fur babies to think about, artificial grass is a great option for your home, and we have the perfect infill to help your grass stand the test of time, no matter what life throws at it.
You might have a preference for your artificial grass infill already, if so – great! But, if you're still feeling unsure of which product is right for you, or you'd just like to experience different infills first-hand before you commit to putting them down in your own backyard, reach out to the Lifestyle Lawns team!
We are proud to provide non-toxic, low-maintenance and high-performance artificial grass, and infills. We don't want to brag too much, but we believe our products are the best artificial grass in the New Zealand market.
Give us a call to chat with our expert team, and arrange a free, no-obligation quote!