The dewy mornings and golden leaves have something to tell you; autumn is here! And that means cool, dark evenings bundled up on the couch with the fire roaring, crisp morning air as you leave for work, and delicious seasonal produce.
But it also means that it's time for you to start thinking about how to maintain your artificial grass as we head into the cooler months. On our Lifestyle Lawns blog, we've already covered a bit about maintaining your artificial lawn, but we thought that this would be a good time to go over some season-specific maintenance tips, so that you can be sure your lawn looks its best this autumn!
How to Maintain Artificial Grass in the Autumn
When you make the switch to artificial grass, you're leaving behind the constant mowing, weeding, and fertilising that real grass needs. That doesn't mean that your artificial grass is maintenance-free, unfortunately, but you don't need a green thumb to keep your artificial grass looking happy and healthy in autumn.
Maintaining your artificial grass is as easy as 1, 2, 3 – follow these simple steps to learn how to maintain your pride and joy and you'll be good as gold(en leaves)!
1. Keep it green
Your neighbours will be green with envy when they see how luscious and healthy your artificial grass is! Don't worry, we won't tell them it's fake, we'll leave that conversation with you to bring up.
But seriously, at this time of year, it's more important than any other season to keep any leaf litter and other debris off your lawn – there's certainly a lot of it around! Leaf litter can build up and begin to decompose, leaving nasty sludge which, if left to sit on your artificial grass, could cause unsightly stains, and yucky smells!
Using a stiff broom, a leaf blower, or a rake should do the trick to remove anything you don't want on your lawn, and keep your artificial grass looking nice and green. If you haven't caught it soon enough, and your leaves have turned into a squishy mess, give it a quick blast with the hose.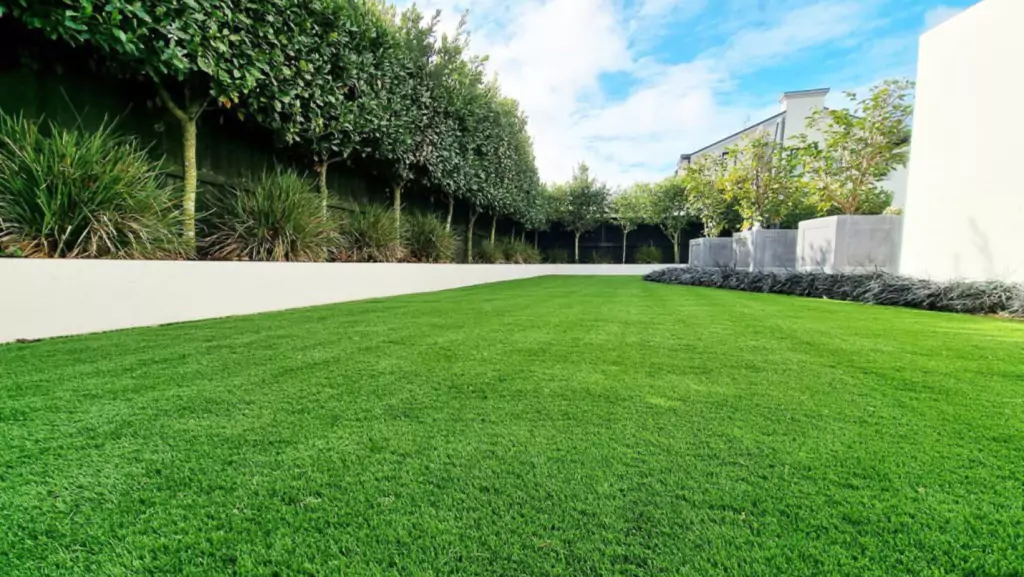 2. Keep it clean
While this is important year-round to avoid staining, keeping your lawn clean this time of year is a good idea! If you're anything like us, you'll be spending less time on your lawns as the temperature drops, and sometimes it's easy to forget there's something on the lawn until it's too late and the damage is done. So, if you spill anything on your lawn, there are plenty of great ways to remove a stain, but the best practice is to get onto it ASAP.
Don't worry, if something is left on the lawn and you end up with staining or damage, there are plenty of options to get your lawn back to its beautiful best, and if you run into any issues, just sing out – we're pros when it comes to removing stains and fixing damage!
That being said, you may want to consider moving any old outdoor furniture off your lawn if you have any concerns about rust stains or flattened fibres this time of year, just in case.
3. Don't overwater
You probably already know that our artificial grass has incredible high-flow drainage technology! It can handle a good soaking – so rain, and the occasional hose-off won't harm your lawn in any way.
But it's important at this time of year, as we approach the wetter months, that you check there are no pooling issues on or around your lawn. Stagnant water can contribute to the growth of mould and bacteria (which no one wants on their turf!), and that can cause serious damage to your perfect artificial grass.
Double-check that fallen leaves around your garden haven't blocked any drains, or diverted water to your lawn, and keep an eye on this after any big rain showers.
Bonus tip: Check for wear and tear
Since the weather is cooling off, you're likely not spending as much time out in your garden, and you might be looking to hibernate inside a bit more over the coming months. While you're out there doing your autumn maintenance, why not give your artificial grass a good once over to check for any lifting, wrinkling, fraying, staining, or other damage?
Catching any damage to your artificial grass early will make it easier to fix, so don't fret if you find any – it's not the end of your lawn!
Staining can usually be removed if it's caught soon enough and, if you've purchased your artificial grass from Lifestyle Lawns, your turf is covered for a whopping 10 years!
We can help you get it sorted as soon as you spot any issues, just let our friendly team know.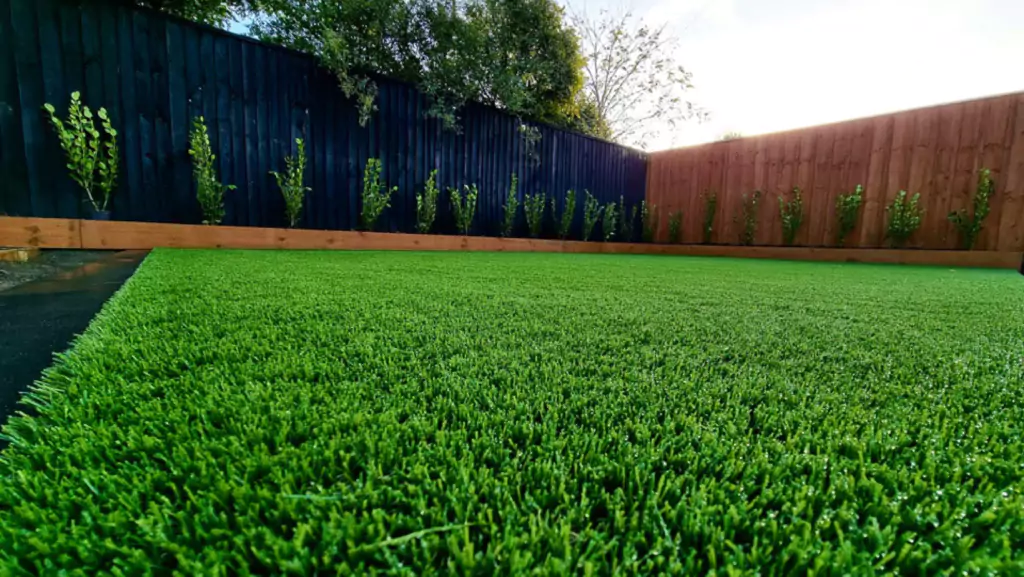 Year-round maintenance
Autumn is a good time of year to get your lawn looking swish, even if you're spending more time admiring it than relaxing on it at the moment.
Like any other season, if you've got furry friends who use your lawn as a toilet, removing any solid waste regularly is an essential step to maintain your artificial grass. Also, feel free to give it a quick hose off, if you notice any smells developing, especially if you've not had much rain recently.
As always, brushing your lawn and using high-quality infill like Envirofill or Safeshell will help maintain upright fibres and keep your lawn looking stunning!
If you've already made the switch to artificial grass, you might be interested in learning more about how to maintain it, you can check out our full maintenance guide if you'd like to learn more about how to get the most out of your artificial lawn during every season.
As always, if you're looking to make the switch to artificial grass, and you're ready to give us the green light to give your lawn a realistic-looking, fake grass makeover, give us a buzz so that we can get growing! Whoops, we mean going!