You've done your research, and you've picked the artificial turf that best suits you, your family, and your space, now comes the exciting part – installation!
At Lifestyle Lawns, we can help make your dream lawn a reality with our range of artificial turf and infill products. We can install your turf for you, or we can even help to guide you through the process of installing it yourself, whichever you prefer.
If you'd like to have a crack at installing your own artificial grass, we recommend having a chat with our team. You can also check out our DIY Installation Guide which outlines the process step-by-step (save this link for later, or email us if you'd like a PDF version to keep on hand during your installation), and of course, we'll outline the most important things to think about below.
4 Important Artificial Turf Installation Tips
Us Kiwis, we're MacGyvers and DIYers, and we're not afraid to use the number eight wire. So we know that, if you'd like to install your artificial turf yourself, you'll do a bang-up job!
With well over a decade of experience in the landscaping industry, and countless happy customers, we like to think that we know a thing or two about artificial turf installation. If you're looking for some pointers, or you're not sure where to start, sit back, relax – we'll show you the tips of the trade, so that you'll know exactly how to do it once, and do it right.
1. Preparation
Prep, prep, prep. Preparation is key. It's not the most fun stage, it's not the most glamorous, but it's the most important step to ensure that your artificial turf installation goes smoothly and lasts for years to come.
First things first, you'll need to remove any weeds and debris from the area where you'll be placing your lawn down – you don't want any pesky weeds sprouting up through your new lawn, so we recommend using a non-toxic weed killer on the area and giving it time to kill any undesirable plants in your way.
Once your weeds are cleared, gather your equipment (the full list of our favourite artificial turf installation tools is in the DIY Installation Guide), and enlist the help of a buddy for more speed and fun – there's no reason this can't be an excuse to get a few mates around and enjoy the sunshine! But be prepared, they might love your lawn so much they install their own, and they might appreciate a hand installing theirs too.
We can provide a roll plan to take the guesswork out of laying your lawn, and we have a DIY kit available for hire to make the process even easier! The kit includes a blower, drop spreader, staple gun and staples, powerbroom and batteries – basically, everything you need to make the process a breeze.
Next, you'll need to remove the top 7-10cm of soil to make room for the artificial turf base (to avoid slumping, this is best done during dry weather, at least a few days after the last rain). You want this area to be nice and flat, or sloped slightly away from your house to avoid pooling water and soggy feet!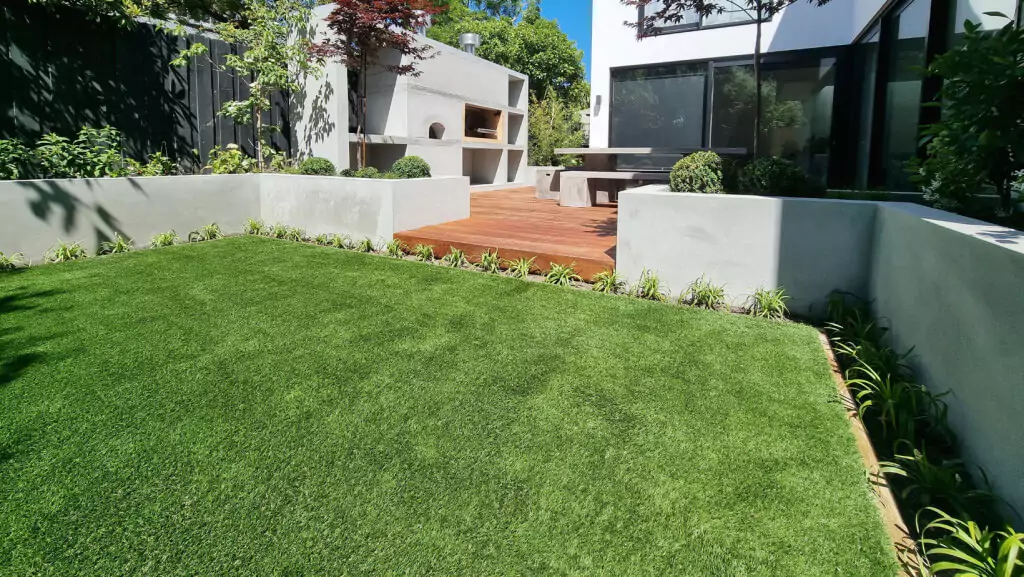 2. Installation
Now you're ready to roll! Well, almost!
Once your area is prepped, it's time to install the fixing timber to the edges of the lawn area. The timber will keep your base contained, give you something to fix your synthetic lawn to, and it'll give you a beautiful garden border, just like a real lawn!
Then it's time to lay the base! We recommend using 80mm of AP20, 20mm of GAP5 or crusher dust. Once you've poured this in, and leveled it off roughly, you'll need to give it a wee sprinkle with the hose, and then you're ready to get a plate compactor onto it (if you and your mates don't have one of these, your local hire shop should be able to help you out). Pro tip here: you're looking to compact the base to about 90% of its original height.
While your base dries off, unroll your artificial turf – it needs a little while to relax after being rolled up and transported to you, a couple of hours should do the trick! And then, the moment you've been waiting for! If you're happy with your base, it's time to lay your lawn down.
3. Fixing
You'll need to join your artificial turf together wherever there are seams in your lawn. To do this, we recommend using specialist tape, and also glue in those high-traffic areas.
When you've attached each piece together, and you're satisfied with the final position of your turf, use a sharp Stanley knife to cut it to size, and fix your lawn to the timber edges with either staples or flat head, twisted nails (you can pick twisted nails, tape and glue up as part of your artificial turf order).
4. Finishing touches
Lastly, you'll need to add your infill. Infill helps keep the turf fibres upright and provides extra cushion for added comfort. So, be sure to use the recommended amount of infill for your turf, and choose a product that is safe for any furry family members who will use your lawn.
When your infill is in position, then you can go over your lawn with a powerbroom to fluff up the fibres so that they look like real, live grass! If your lawn has gotten dirty during the installation process, feel free to give it a quick hose down and you should be right as rain.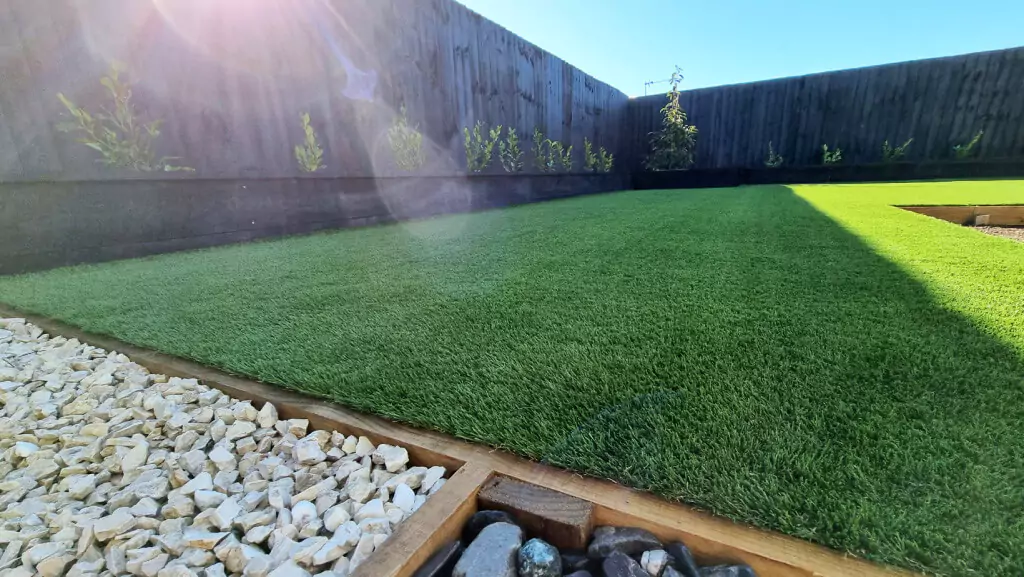 Enjoy!
Now your lawn should be ready to enjoy for years to come! Give yourself a pat on the back, get out the deck chairs, crank up the barbie, and appreciate the incredible installation job you've just completed! Don't forget to carry out regular maintenance to keep your lawn looking lush, and your neighbours green with envy.
Installing your own artificial turf may seem daunting, but it's easy once you know how! Trust the process, don't skip the prep work, and if you have any more questions about artificial turf installation, Matt's the man to ask and he'd love to talk you through the process – just give us a buzz!
Likewise, if you're a contractor and you'd like to brush up on your artificial turf installation, or become an Accredited Installer, reach out to us so that we can organise a training session at your workplace.