At Lifestyle Lawns, we love dogs, and we want the best for your best friend! That's why we've added Lifestyle RUFF to our Future Series. Our Future Series has been designed for the present, and the future. RUFF was created with a fully recyclable backing, it's incredibly durable, and of course, it's beautiful and soft. RUFF has the added benefit of being designed specifically for dogs. Engineered to allow urine to flow freely through the backing, and to be gentle on paws, without compromising on looks – so your pets will love RUFF just as much as you!
As a dog owner, you want to keep your dogs safe and comfortable, but that doesn't mean you have to compromise on looks or practicality. We've covered some of the basics of choosing and maintaining artificial grass in previous blogs already, but if you're unsure if artificial grass is a safe choice for you and your furry friends, let us put your mind at ease.
Is Artificial Grass Safe for Dogs?
The short answer is yes! High-quality artificial grass is absolutely safe for furry family members. All of our artificial grass is created using non-toxic raw materials, so there's no cause for concern for yourself, your little ones, or your pets.
That being said, not all artificial grass is created equal, and some products are better suited for dogs than others, so here are some things to look out for when choosing the option that will be safest for your pup:
Drainage
Let's call a spade a spade; your dog probably sees your lawn as their own, personal toilet. On a traditional lawn, cleaning up after your dog can be rough, dog urine may lead to dead spots and yellowing grass, and on a low-quality artificial lawn, your dog's waste could also build up and harbour harmful bacteria.
RUFF is a high-quality artificial grass designed especially for your dog. With the capacity for more than 45,000 cubic millimetres to pass through RUFF every hour, your dog, and any four-legged visitors can use your lawn to do their duties, and you won't have to worry about harming your beautiful grass, or bacteria taking over! You'll still need to pick up any solid waste, and we do encourage the odd rinse with a hose to prevent any smells from developing.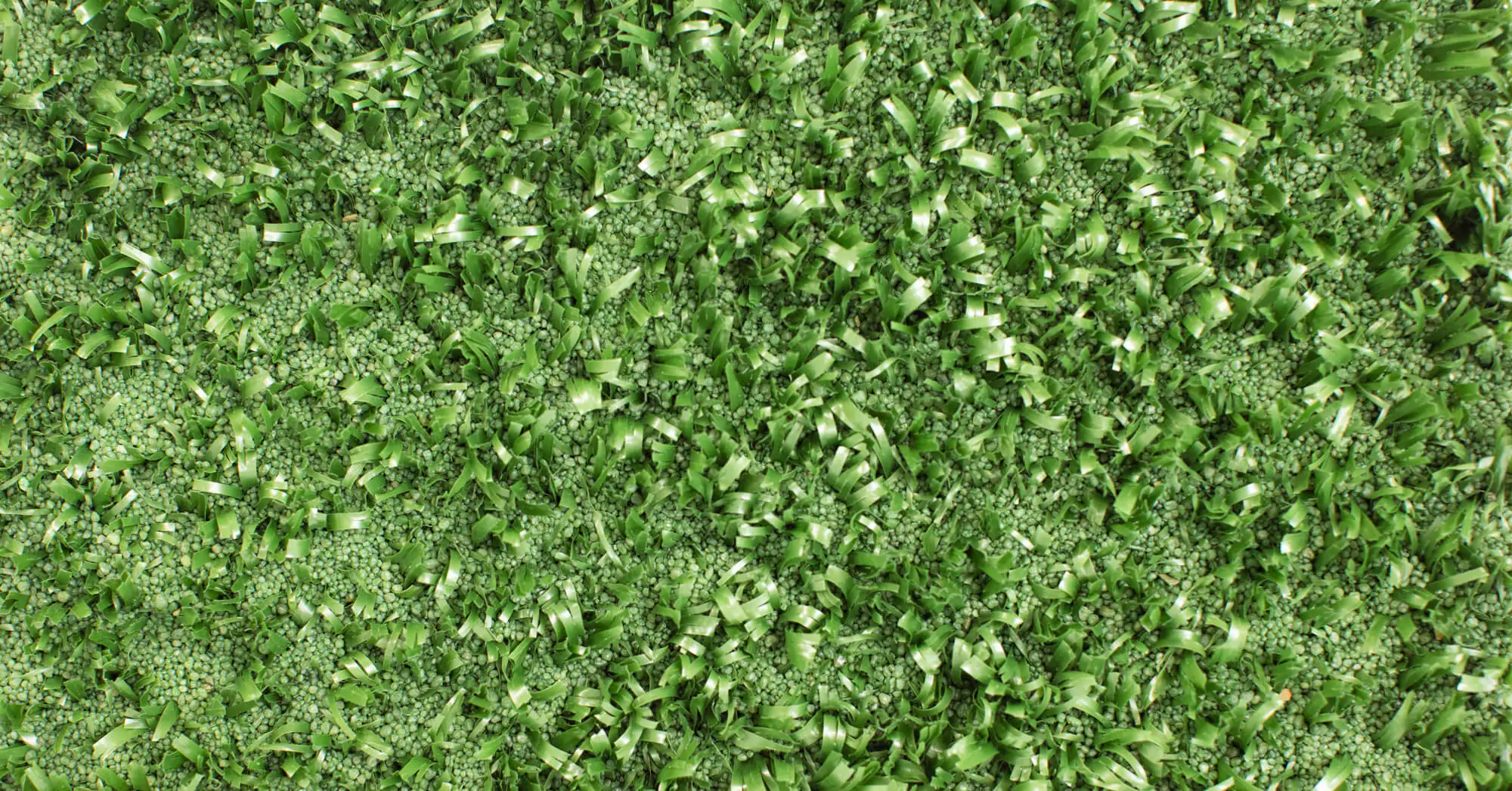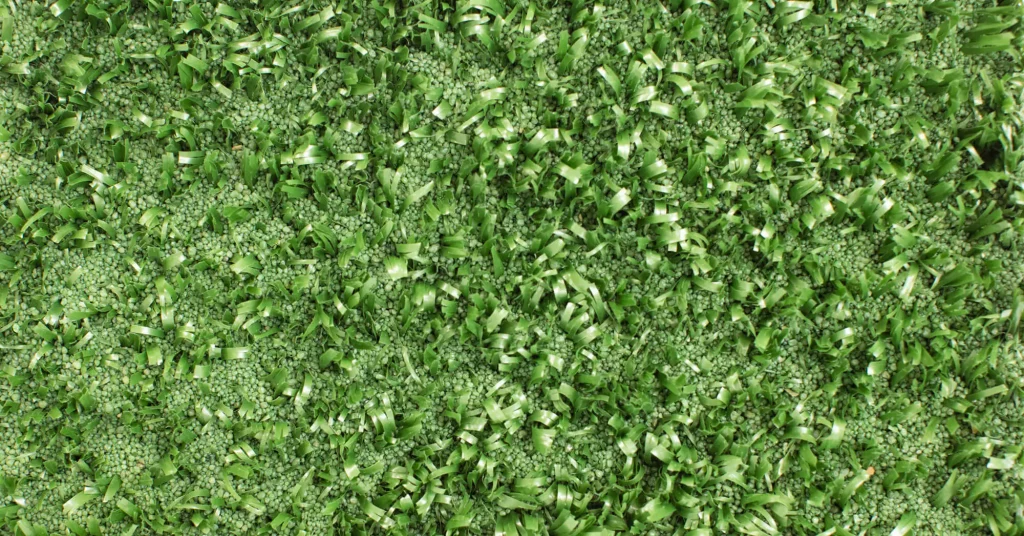 Heat
In the hot New Zealand sun, you want to make sure your dog has a nice, cool place to rest. A common misconception about artificial grass is that it gets too hot to touch on hot days, and then, what's the point of having it if it's not a space where you can comfortably spend time on a gorgeous summer day? With our CoolTouch™ self-cooling technology, this simply isn't an issue!
Artificial grass is generally a little warmer than natural grass on hot days because it doesn't have the natural cooling effect of evaporation. Our CoolTouch™ technology utilises solar absorbent materials embedded in the yarns. CoolTouch™ helps the yarn to reflect light and heat, maximising UV protection, without looking false and shiny, and providing a safe material for your dogs to walk on, without scorching their sensitive paws. If you do find that your synthetic lawn is a little warmer than you'd like, a quick mist from the hose will have it cooling down in no time!
Durability
Your dog deserves a lawn where they can comfortably run, jump, fetch, play, and dream! And you deserve a worry-free lawn. RUFF allows your dog the freedom to do what they enjoy most, and gives you the freedom to forget about stains, dead patches, and hole digging. When installing RUFF, we recommend using our Envirofill infill. Infill is important for all artificial lawns because it keeps them looking good and extends the life of your investment. Envirofill is exclusive to Lifestyle Lawns, and we've created it so that it's 100% safe for your furry friend, it also has the added benefits of reducing the required upkeep, durability, and antimicrobial properties of your lawn.
Of course, we don't recommend your pup ingests RUFF, or any of our artificial grass products, so proper installation is essential to avoid any parts of the lawn coming loose and tempting your dog with a game of tug of war. Proper installation and maintenance will reduce any exposed sharp edges and seams, so they're both important steps to keep your artificial grass safe for your dog. If you'd like to install your lawn yourself, we can show you how and, if your dog is an especially determined digger, or if you're using RUFF in their run, we recommend using a timber surround to securely fix your artificial grass to, this will make it extra tricky for even the best hole diggers.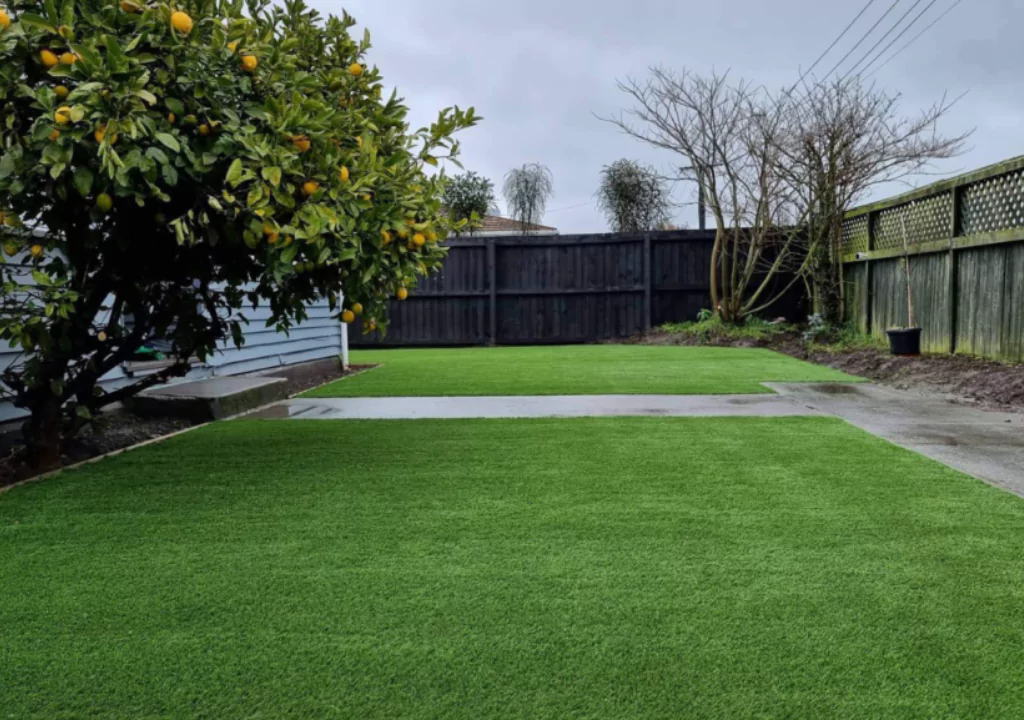 Bacteria
If not cleaned up quickly, pet urine and faeces can create an environment where bacteria can grow very easily. That's why we have added an anti-bacterial product to our raw materials which helps prevent the growth of harmful and unsightly bacteria. These materials inhibit the growth of bacteria, mould, and odours, keeping your lawn looking and smelling fresh for longer!
While all of our lawns are safe for dogs, RUFF was designed specifically with your fur baby in mind. Not only is RUFF artificial grass safe for dogs, with its 35mm pile height it'll look lush and realistic in your garden, RUFF can help ease the burden of everyday dog care so that you'll have more time to enjoy play and pats with your doggo. With highflow drainage, self-cooling technology, and antibacterial properties, it's the perfect choice for you and your family, and it's sure to make your dog's tail wag.
RUFF isn't just designed for your home though, it's also a great solution for doggy daycare, vet clinics and kennels. If you'd like to know more, visit our info centre, or if you're ready to experience the future of artificial grass for yourself, chat to one of our friendly team members and we'll help you find the best solution for your lawn.