If you've spent the summer cooling off in your swimming pool, watching the grass grow more and more yellow, and making a mental note to clean the tiles again, it might be time to try something new.
While you're making the dash from the scorching concrete around the pool to the safety of the grass, thinking about your options, we're here to tell you that artificial grass might just be the answer.
Installing artificial grass by your swimming pool is a great, low-maintenance solution that comes with a tonne of benefits. With artificial grass you can say goodbye to muddy patches, mouldy concrete, and slippery tiles, and hello to a refreshing dip without the cleanup.
However, when it comes to choosing the right kind of synthetic grass for your swimming pool area, there are a few things you'll want to take into consideration, including drainage and potential damage from chlorine and harsh UV rays.
To help you get it right, let's take a look at some of the must-have features of artificial grass for your swimming pool.
Chlorine-resistant
As your yellowing and withered grass might tell you, chlorine and grass really don't mix. The chemicals required to keep your swimming pool clean and free from bacteria quickly discolour and destroy natural grass – even the hardier types of grass struggle to thrive when chlorine and salt are involved.
Although artificial grass is a stronger contender against chlorine, not all artificial lawns are made equal. Make sure that the one you choose is chlorine and seawater stabilised so it can withstand any exposure to pool water and stay as green as the day you got it.
Good drainage
It might often seem as though there's more water out of the swimming pool than in it, especially if you have very enthusiastic children! Since there's nothing worse than having your lawn, real or artificial, turn into a swamp, you'll need to make sure your artificial grass has a good drainage system.
The synthetic grass backing should have perforated holes that allow water to drain easily to avoid pooling and potential slip hazards. We know just how important this is, so we've designed our products with twice the amount of holes as regular artificial grass to make drainage twice as fast!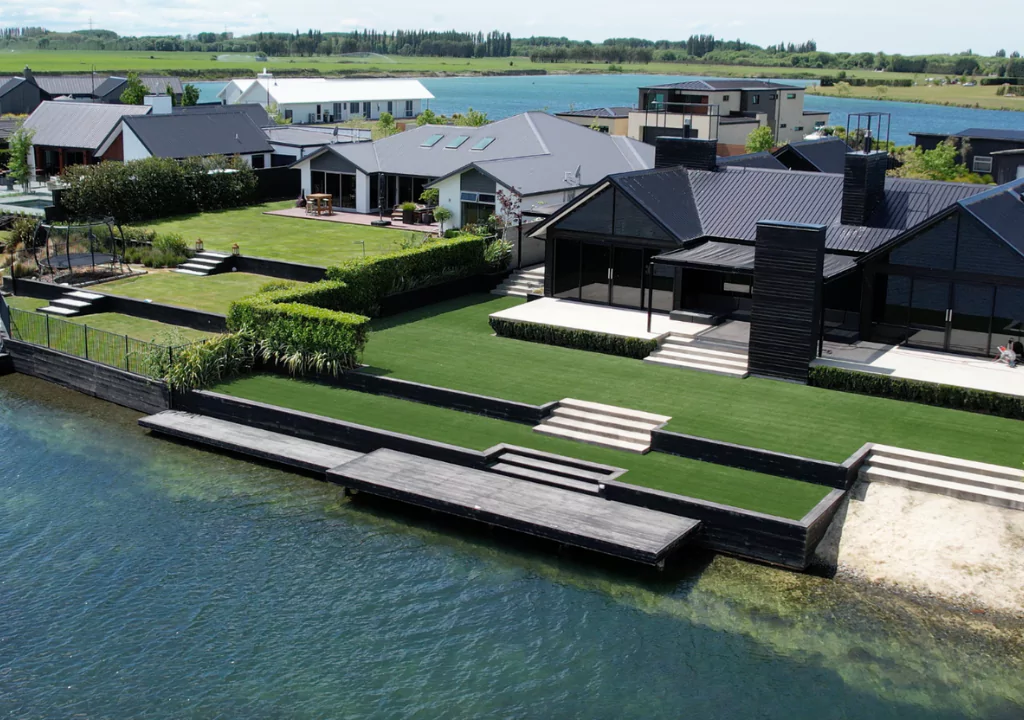 Cool to the touch
This is where a lot of artificial grass types fall short. Because the fibres actually absorb the heat instead of reflecting it, the grass becomes just as unbearable to walk on as hot concrete – and what's the point of removing those pesky feet-burning tiles if your grass is just going to do the same thing? Luckily, we've solved that particular problem!
Our products are made with CoolTouch™ technology, an innovative self-cooling technology that reflects light and heat. Solar-absorbent materials are added to the yarn in the early stages of production to give your feet a blissful cooling sensation, even in the hottest temperatures.
UV-resistant
We all know just how harsh the New Zealand sun can be, and that's why it's important that your artificial grass is resistant to its penetrating UV rays. Without this resistance, the fibres in the grass will break down prematurely, giving you much less time to enjoy your new turf.
The fibres in our artificial grass products have built-in UV inhibitors that are mixed into the yarn to prevent fading, keeping your grass in top condition. We've made sure that our Leisure range in particular has maximum UV protection so you can use it to your heart's content without worrying about breakage.
High quality
Because artificial grass around your pool area is going to be heavily used, the quality of the grass you choose is key; it's the difference between a lawn that looks and feels as close to the real thing as possible, and one that feels rough and is easily damaged.
Purchasing good quality grass will also mean you've got longer to enjoy its benefits because the better the quality, the longer it will last. What makes our products different is that they're designed in New Zealand at a high standard that matches New Zealand's unique environment. We stand by the quality of our artificial grass, and we even have a 10 year warranty on all of our products to prove it!
Easy to clean
Although artificial lawns require much less maintenance than real grass, there's still a bit of cleaning required. Don't worry, it's not as labour-intensive as mowing it every week, but to keep your lawns in tip-top shape, you'll need to give it a good clean every once in a while.
To make your life easier, opt for artificial grass for pool area that can withstand pressure from the hose and has great drainage. Proper heat and UV protection is also extremely helpful when it comes to cleaning; if anything is spilled on the grass, stains won't bake in and cause damage and discolouration.
Lifestyle Lawns Leisure Range
Our Leisure range has been created with all of these factors in mind – think of it as the superhero of artificial grass! Its self-cooling technology, high flow drainage, UV protection, and chlorine stabilisation make it the ideal solution for your pool areas.
Using all of the latest and greatest synthetic lawn technology, the Leisure range also keeps the comfort of your family in mind. The fibres of the grass are comfortable and soft to the touch so that any little feet will be happy as Larry!
Don't worry, we've also thought of the fur-babies too. Our lawns are extremely pet-friendly and use technology that helps prevent odours and the growth of any nasty bacteria. Muddy paws and unsightly yellow patches will be a thing of the past with our artificial grass!
If you're weighing up your options for artificial grass for your pool area, get in touch with our friendly team for more information. Or if you're still on the (pool) fence, simply request a sample to see for yourself just how good our grass really is!