At Lifestyle Lawns, we want all Kiwis to experience the most realistic looking synthetic lawns on the market, and we don't just mean at home!
Our director, Matt, has over 12 years of experience in the landscaping industry. The expertise he's gained from working in homes, schools and businesses has helped us to develop an artificial grass to suit every commercial environment, from putting greens to playgrounds, rooftop bars to sports fields, and everywhere in between!
Not only does commercial grade artificial grass look better than traditional grass every day of the year (we're biased, we know, but have you seen our incredible installs?), it's also highly durable, low maintenance, and comes with a 10 year warranty. But, with so many different products out there, how do you know which one is best for your business?
How to Choose the Best Commercial Artificial Grass
If you're feeling overwhelmed by all of the options on the market, we're here to help! Just like residential artificial grass, when you're picking commercial artificial grass, you want to ensure that it's the right product for your needs. A golf course is going to have different requirements to a doggy daycare, and so on, but don't worry, we know we've got the perfect artificial grass to suit you.
Trawling through the internet to determine the best artificial grass for your commercial space, can be like watching grass grow, so here are a few things to consider so that you can speed up your search:
Traffic
Because we want to ensure that your commercial artificial grass stays looking as fabulous as the day it was installed, we want to help you choose the artificial grass most appropriate for the foot traffic you'll have on it.
If you're installing your artificial grass in an area like a bar or cafe, you're probably expecting a lot of foot traffic on a regular basis. A product from our Active series may work well, but you'll want to pair it with a durable infill to get the most out of your turf. You'll also need to carry out regular maintenance to keep your artificial grass looking its best, but we promise, it'll still be way less maintenance than a traditional lawn!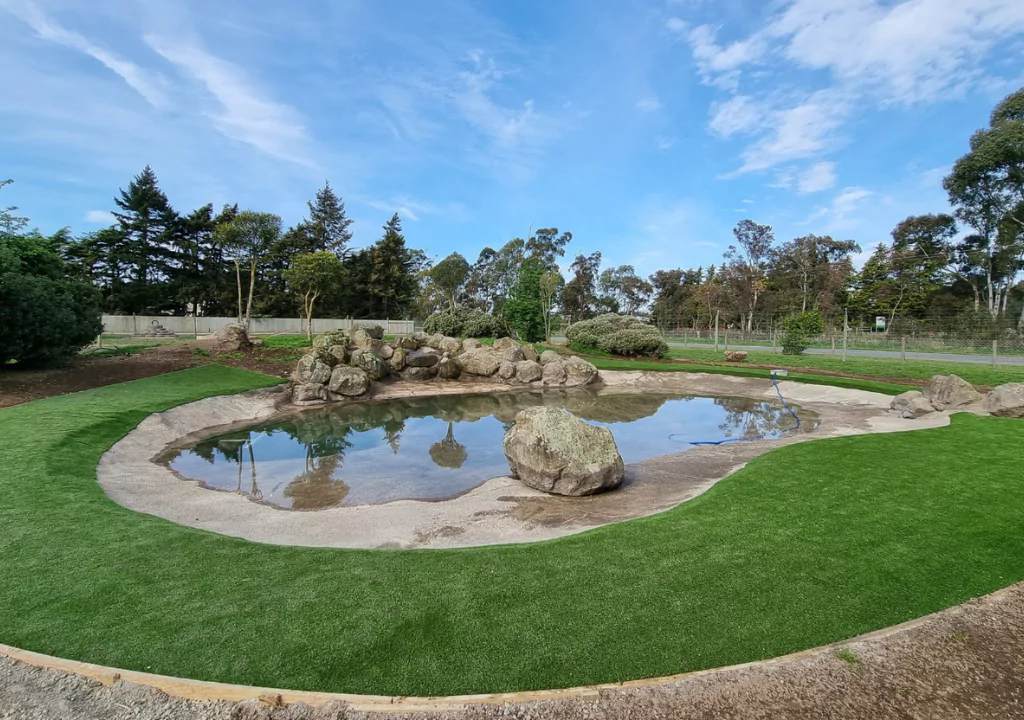 Drainage
You might not see your grass draining, but you'll certainly see it if it doesn't drain quickly enough! Pooling water may damage your artificial grass over time, and it may cause harmful and unsightly mould and fungus to grow, particularly if organic matter is also left on your grass. While rinsing your lawn is an important step in maintaining beautiful turf, not all products on the market are equipped with high flow drainage.
We offer a number of different artificial grass options that are suitable for commercial use, with varying water permeabilities. If you're installing your grass under cover, you might be able to opt for something with a lower drainage rate, but if you're looking for an artificial lawn for an outdoor bar, where it'll be exposed to rain (and the occasional spilled drink), something with high flow drainage will mean that no one will get wet feet, and you'll be able to gently hose off any sticky liquids.
Colour
Something that can make or break your space when picking artificial grass for a commercial space is the colour! Of course, you want your turf to be durable and practical, but it also has to look like it belongs in your space. 
When picking your artificial grass, you have a few options for colours. We always recommend a natural-looking green for the most realistic results, but, just like when you pick paint, it can feel like there are infinite shades of green to choose from!
Because you've worked hard to build your brand, and you want your artificial grass to work cohesively with everything you've carefully curated in your space, we offer samples of all of our products, so that you can see what they look like in your premises, at different times of the day, under different light.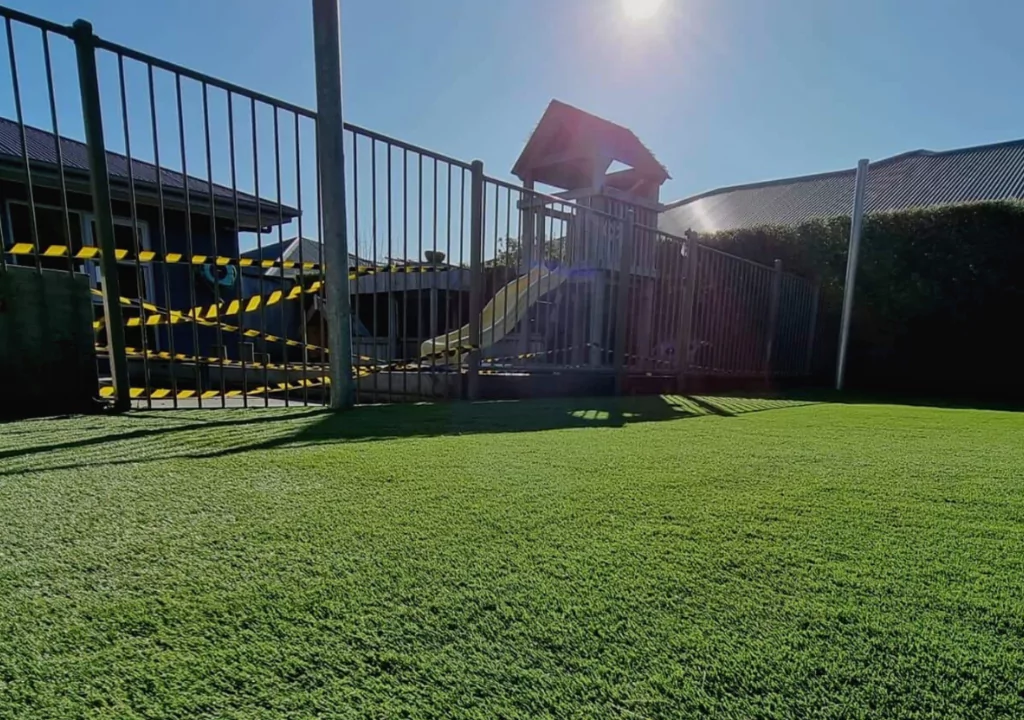 Pile height
Another important aspect of choosing the commercial artificial grass that will look best within your commercial space is pile height.
Pile height refers to the length of each of the grass fibres. While a taller pile height might suit a residential lawn, and make it feel more luxurious, the fibres may get stuck bent over with excessive use. For most commercial settings, a shorter pile height will suit better, and mean you'll spend less time worrying about your grass getting trampled under foot.
A shorter pile height will require less regular maintenance if you have heavy foot traffic, so it's great if you don't want to spend too much time brushing your artificial grass. A shorter, denser pile, is also going to keep your grass looking freshly trimmed, and professional.
When you pick commercial artificial grass, you want to ensure it's going to function well, and look great! While we can't tell which product would best suit your needs without having a wee chat, we do have products specifically designed for certain industries, and they're a great place to start when considering which product is best for you.
You can check out our products page, where you'll see we have Lifestyle RUFF, in our Future Series – specifically designed with dogs in mind, so perfect for boarding kennels and vet clinics! We also have Golf Focus in our Active series – ideal for both professional and amateur putting. On top of that, we have artificial grass for cricket, netball, and more!
Lifestyle Lawns is based in Christchurch, but we can supply nationwide. We can arrange to send you samples of the products we think will work best in your space, help you find a top notch installer, and we also offer a 10 year warranty on all of our turf, so you know it'll last. No matter where in New Zealand you are, if you have questions about which commercial artificial grass option is the best for your needs, contact us today!