RESIDENTIAL
At Lifestyle Lawns, our mission is to provide our customers with the best and most realistic looking artificial turf options available on the market at affordable prices.
Our wide range of wholesale artificial grass provides artificial grass for both residential and commercial areas. Whether you are a landscaper who is looking to lay down synthetic grass for a job or a homeowner who is looking for an easy maintenance lawn, we have the right artificial grass for you.

We are based in Christchurch but can supply nationwide, if you have questions about which options may be best for your area, please contact us today!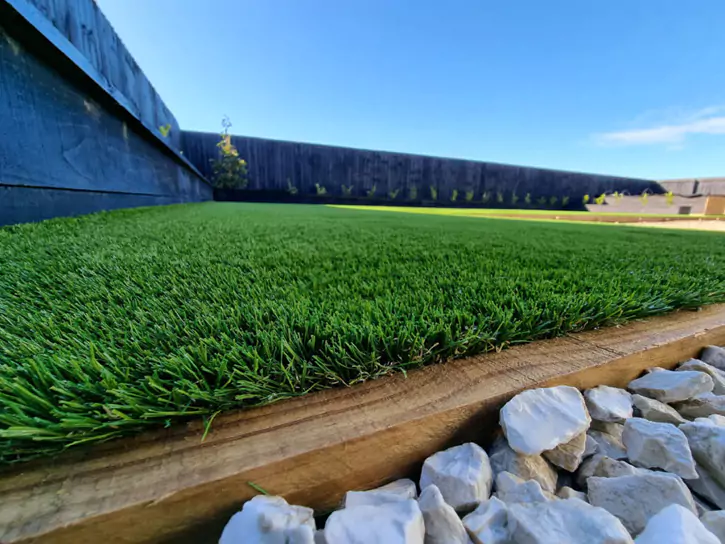 COMMERCIAL
Common uses:
Commercial Landscaping:
Artificial turf is an ideal solution for common areas, parks, dog and pet areas, playgrounds, and more. You can expect durability, lasting beauty, and a long life span.
Sports Fields:
We provide the industry's best commercial artificial turf solutions for athletic fields for all sports, putting greens and more.
Playgrounds:
Our artificial turf is 100% safe, chemical free, has cooling technology and antibacterial making it perfect for playgrounds, parks, and other common areas. Keep the kids safe and happy with our long-lasting surface.
Putting Greens:
Enjoy golfing or putting at home or the office with artificial grass that performs as close to professional grade natural grass for a realistic performance.
Rooftops and Patios:
Artificial turf installations for office rooftops and patios, particularly in urban areas, are increasing in popularity, due to their beauty, longevity, and supreme functionality.
Entertainment Spaces:
Lifestyle Lawns artificial grass livens up any office, common area or entertainment space, including rooftops, patios, swimming pools, and more.
DOG OWNERS

We have some great options for your furry friends! We have put extreme care and thought into creating the longest lasting, most realistic turf. Our Highflow draining technology makes our artificial grass low maintenance, keeping your back yard not only free of yellowing patches and patchy bare spots but also, most importantly, keeps it smelling fresh with our incredible infill options.


Benefits of our Artificial Grass for Dogs:
GREEN GRASS
Your grass will always look green, no more yellow patches and bare spots!
DRAINAGE
We've added twice as many drainage holes to all our backings to combat drainage issues.
COOLTOUCH™ and ANTIBACTERIAL
We have added these important features to our LEISURE Series to ensure our pets are as comfortable and safe.
ENVIROFILL
The only pet-friendly turf infill that combats odors while maintaining longevity and cleanliness in backyard, playground, and park applications.
PREMIUM RECYCLED INFILL
Our recycled infill is more permeable than sand, therefore drains quicker and helps prevent bacteria growth.
CONTROLS ODOURS
100% safe, environmentally friendly, our odour absorbing and neutralising infill is added to each pet installation, reducing the odours caused by the ammonia in pet waste.
NO MUD
No matter the weather, artificial grass keeps the dirt and mud of those paws!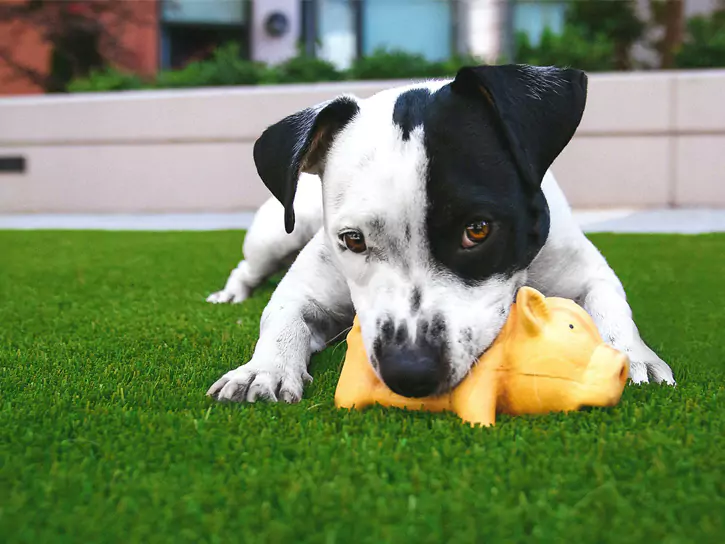 Products best suited for Dog Owners:
EDUCATION
Artificial grass has quickly become popular for schools and sports centres. Why is this? Does artificial grass look and perform just as well as natural grass? Won't it cost extra to install and maintain? Not necessarily!
If you're interested in developing/redeveloping a school playground or sports surface with artificial grass, there are plenty of great reasons why you should start looking at options.
Here are some reasons why schools have artificial grass – and why yours should, too!
Less maintenance compared with Natural Grass
Natural grass surfacing may be cheap to grow and easy to keep short, but it is still painstaking to make sure it is safe to use. Natural grass needs to be cut on a weekly basis depending on what you are using it for. Uneven grass, divots and soil could all cause accidents and injuries, too. While some schools may see real grass as cost-effective, it can be very inefficient in lots of other ways.
Artificial grass for schools is built to be safe, solid and easy to maintain. Unlike natural grass, you'll never have to cut it or have to make sure it's free from slippery mud or soil. It can be left to its own devices from season to season! Of course, it's a good idea to keep it clean – but you'll save so much time and so many resources.
Suitable for all seasons/all weather
Real grass may be nice and soft, but when the rain starts pouring down, it can be hazardous. This can result in games and matches being called off completely. What's more, leaving a grass field or surface to air out after a downpour can be a massive drain on your time. Artificial grass for schools are weather-resistant. Come rain or shine, kids will be able to head out and play sports and games without fear of slipping or getting too wet. Weather resistance is absolutely crucial when it comes to modern play equipment and sporting facilities. Our turf is immediately more reliable than real grass for that reason alone.
Provides safety qualities for playground equipment
Artificial grass is considered a safer option for sports fields and playgrounds. When installed with a shockpad underlayer, artificial turf and surfacing can be used to help bolster safety with playground equipment. No matter how safe your playground equipment may be, there will always be a risk of a child falling or hurting themselves. Artificial turf and grass solutions, when built with shockpads, can help to reduce the impact of a fall or trip, and will, therefore, be kinder to kids who may otherwise be playing safely.
While it is always crucial that you make sure children in your care are safe at all times, you are also going to need to make sure that the facilities they use are built with safety in mind. The shockpad is designed to reduce the impact and prevent serious injuries. It can be specified to suit the critical fall height of equipment in the area.
Not only is synthetic surfacing superior to real turf in the sense that slips and trips are minimised, it will also help to lessen the blow of any potential slips and falls which may occur along the way. All in all, synthetic surfacing should be considered a viable option for any school or sports club looking to better protect its users.
Infills
Not only do we offer some great features in our artificial grass product, we also have safe, environmental and child friendly turf infill options! We have our Premium Recycled Infill, Envirofill and Safeshell.
It is an acrylic coated round quartz sand that comes from Central Texas. It is a safe, clean, non-toxic and environmentally friendly turf infill. With its superior durability, Envirofill can be used for multiple turf lifecycles with no decrease in performance. In fact, the product carries a 16-year warranty, the most extensive coverage in the industry. Envirofill, is the most trusted and longest-lasting non-rubber turf infill on the market. It's the perfect selection when maintenance, long-term performance, safety, and durability are key decision factors. Microban® antimicrobial protection is infused into Envirofill during the manufacturing process to help prevent the growth of bacteria and microbes that can cause stains, odours, and product deterioration. Ideal for pets, children, and athletes, it's the cleanest turf infill around.
It's the only pet-friendly turf infill that combats odors while maintaining longevity and cleanliness in backyard, playground, and park applications. Envirofill is exclusively available to Lifestyle Lawns only.
It is made from US grown walnut shells (black walnut). Without processing, Safeshell wouldn't be…safe! We teamed up with a leading biotechnology firm to develop a patent-pending process that eliminates allergens that remain on the shell after separation from the nut.
School synthetic grass surfacing designs don't all have to arrive in one colour. Modern synthetic surfacing can be easily marked, which means you can designate certain zones and areas for play. Why not use synthetic grass for schools as an opportunity to encourage multi-sports? Football, tennis, hockey and more – all can be safely played on a water-resistant and hard-wearing turf which really will pay for itself after a few short uses.
We design and install synthetic and artificial grass for education facilities based on a whole host of factors.
No matter your needs and requirements, we will always be happy to discuss your perfect school turf design with you. Whether you are setting up a new play area or are arranging for an old turf to be completely re-laid, our team will run through every option and choice with you to make sure you are completely happy.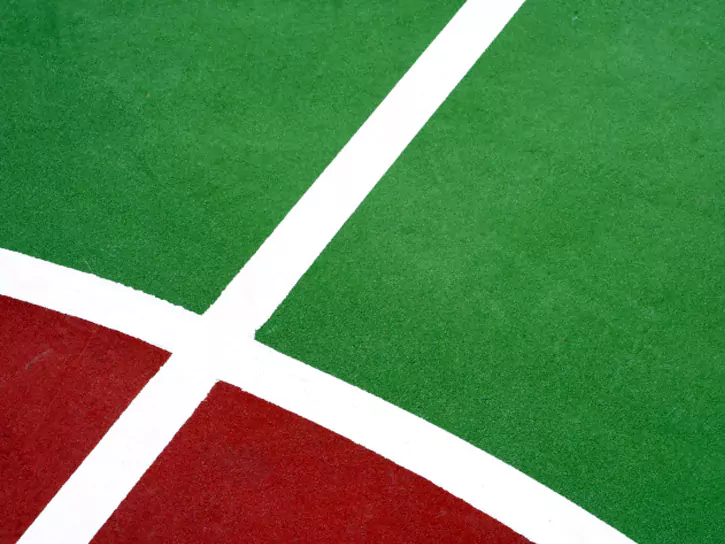 CONTRACTORS
Whether you are wanting us to supply and install or supply and install yourself, we can provide all you need.
Matt's passion is teaching the installation application, he always offers his time, passion and skill to meet with anyone to help them fully understand the process, teach them roll plans, correct product selection and of course all the tricks he has learnt over many years.
If you'd like Matt to come to your workplace and teach your staff the artificial install ways, please enquire about our training sessions here – contact us.