Whether your dog is the size of Clifford the Big Red Dog, or you've got a Lassie in your family, your pup deserves the very best lawn to run, play, relax, and relieve themselves on.
At Lifestyle Lawns, we're dog lovers through and through! We've worked hard to offer New Zealanders a line of artificial grass and accessories paws-itively perfect for dogs, so that every Kiwi family and their beloved K9s can enjoy the comfort and convenience of an artificial lawn.
Finding the Best Artificial Grass for Dogs
Being a dog parent is paw-some! But it can certainly make maintaining your landscaping a challenge.
You may have found your four-legged friend enjoys making the occasional landscaping suggestion in the form of a freshly dug hole, or you may be battling a constant barrage of yellow spots on your lawn from toileting. Then of course there is the danger of accidentally standing on landmines left over from your doggy's number twos and the risk of muddy footprints inside the house on rainy days.
The logistics of living with dogs can be a drag sometimes…
Wouldn't it be amazing if you didn't have to worry about any of that ever again? You'd be free to enjoy all the best parts of pet ownership and your garden would look fabulous too!
We know you want your garden to look great, but most importantly, you want your dogs to be happy at home. The good news is that there is an artificial grass out there that you and your PAW Patrol are sure to love!
Here are some things to consider when it comes to picking the best artificial grass for your dog and family:
Dog-safety
It goes without saying, you want to keep your dogs safe. To do that, it is essential that you choose an artificial grass that is non-toxic and safe for pets. You'll also want to opt for high-quality artificial grass that won't get too hot on long summer days to avoid discomfort for your dog. All of our grass comes with CoolTouch technology so hot paws and feet won't be a concern!
Picking the best artificial grass for your dog is only part of the puzzle, it's also crucial that you pick an infill that is designed with dogs in mind so that you and your fur babies can make the most of your new lawn. If an infill doesn't explicitly say it's safe for dogs, chances are that you're barking up the wrong tree. Something like our Envirofill infill which is designed with dogs in mind will be your best bet!
Envirofill is our non-toxic, pet and child safe artificial grass infill. Envirofill helps to prevent damage to your lawn and has been specially designed to inhibit the growth of bacteria and odours. It's the only synthetic turf infill with Microban® antimicrobial protection, which works continuously to help inhibit the growth of bacteria, mould, and mildew, all of which can cause unpleasant smells to build up around your lawn. Choosing Envirofill ensures the longevity of your artificial grass so it'll look and smell great for years to come!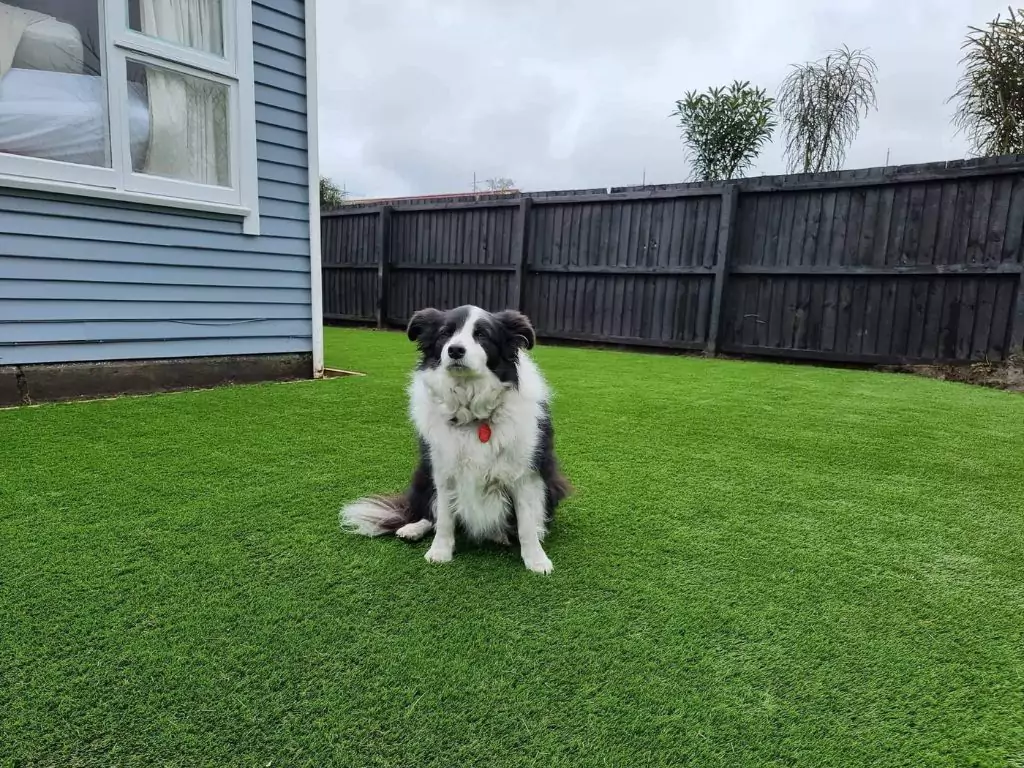 Artificial grass you can easily clean
Between toileting, eating, swimming and rolling – having a dog can be messy. There's really no way around it! That's why it's a good idea to choose an artificial grass that is easy to clean and maintain.
Lifestyle Lawns artificial grasses are resistant to stains and odours, have the latest antibacterial and antimicrobial technology and come with high-flow drainage backings so that you can easily give your lawn a hose down to remove any lingering mess.
If your dog uses your lawn to relieve themselves, it's a good idea to regularly clean up solid waste and set a routine of hosing your lawn down, especially over the summer months and during dry spells when there isn't much rainfall to clean your lawn for you.
While our artificial grass comes imbued with antibacterial materials to inhibit the growth of mould and bacteria, it's still a good idea to wash away any waste to avoid smells developing.
If you are concerned about water use, artificial lawns still require significantly less water than real grass to maintain a beautiful lawn. If you experience periods of drought, by all means, conserve your water! Your lawn will still look luscious and green and if smells do develop they can be easily spot treated with leftover water from washing. 
Artificial grass that'll last
You want something that'll stand the test of time. Our grass is so good it comes with a 10-year warranty! Our warranty covers anything* that could cause your grass to fail prematurely.
You don't want to worry about Scooby-Doo causing any damage to your lawn so, if you are using artificial grass in a dog run, we recommend using a timber surround around the perimeter of the dog run to ensure you have maximised your fixing strength. By keeping your fixings close together we can ensure there is nothing that will attract your pet into a game of tug of war!
*Our grass has been designed by New Zealanders for our unique weather conditions and our uniquely Kiwi lives, so it can probably handle whatever your family throws at it. However, our warranty does not cover misuse or negligence so it's important to avoid fireworks or BBQs on your artificial lawn, keep vehicles off your grass and follow the instructions in our maintenance guide. If you have any concerns about installing artificial grass in a high-foot-traffic area, chat to us about which grass will hold up best in your space.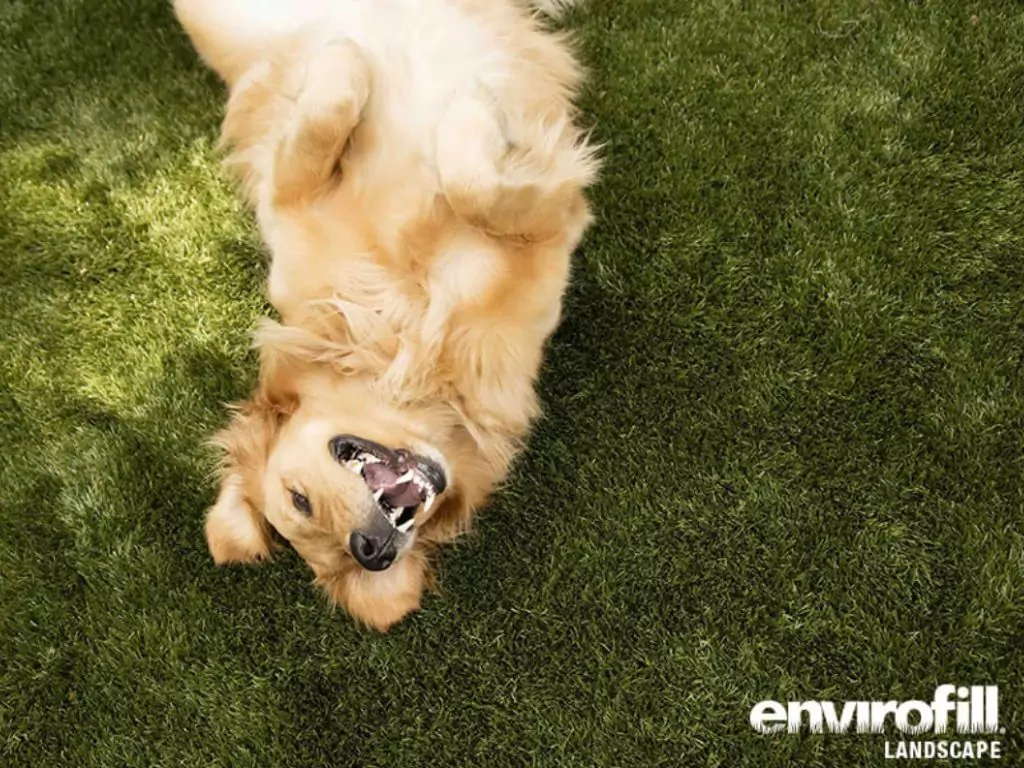 Lifestyle RUFF by Lifestyle Lawns
Dog ownership shouldn't be rough. That's why we came up with Lifestyle RUFF. It is quite simply the best artificial grass for dogs on the New Zealand market.
Designed specifically for your furry canine friends, RUFF was created as a fully recyclable artificial grass for dogs. It's incredibly durable, and of course, it's beautiful and soft. Engineered to be gentle on paws and allow urine to flow freely through the backing, all without compromising on looks – your pets will love RUFF artificial grass for dogs just as much as you!
If you'd like to make being a dog parent a breeze; come to the bark side! See what other dog owners have to say about making the switch, get in touch with our friendly team and we'll send you a sample of Lifestyle RUFF so that you can experience the difference for yourself.