The daffodils are blooming, the fruit trees are blossoming, the days are getting longer… All of that can only mean one thing – it's spring!
It may only be spring, but pretty soon we'll all be breaking out the jandals, tip-toeing on the hot sand, and seeking a cool, shady corner of the garden to enjoy an ice-cold drink. We don't know about you, but the Lifestyle Lawns team can't wait for the warmer weather!
But what does that mean for your fake grass lawn?
How Much Heat Can Fake Grass Withstand?
If you spent last summer trying to keep your lawn alive by following a constant watering schedule (being careful not to water your grass during the heat of the day, because no one likes a sunburnt lawn), worrying about the cost of all that water, trying to stay on top of weeding and feeding, and just generally feeling like having a beautiful lawn was a constant (and often uphill) battle, then it might be time to consider switching to fake grass.
If you're considering installing fake grass around your home, you may be wondering how it holds up to the heat. No one wants to spend their time, energy and hard-earned money on fake grass that can't get too hot and won't stand the test of time. The good news is that fake grass has come a long way, so don't let the heat of the coming summer hold you back from making all of your lawn dreams come true!
You know what they say; if you can't handle the heat, get out of the kitchen. Now, we're not sure why you'd want your fake grass in your kitchen, and we're not here to judge, but the good news is that all of our artificial grass can most certainly handle the heat (whether that's the heat of your kitchen, or more likely, the heat of your backyard in summer)!
So, exactly how much heat can fake grass handle?
Well, fake grass is engineered to endure a wide range of temperatures, making it suitable for various climates and outdoor settings. The resilience of fake grass in the face of heat can be attributed to the materials and manufacturing processes involved. But, of course, every manufacturer is different…
New Zealand summers
Fake grass and very real heat, what could possibly go wrong? Well, as it turns out, pretty much nothing! The good news for you (and your lawn) is that, if you've purchased high-quality fake grass from a reputable supplier, you don't need to worry about it in the heat.
At Lifestyle Lawns, we're proud to offer what we think is the most realistic fake grass on the New Zealand market. All of our synthetic grass products are designed by Kiwis with our unique, and distinctive, seasons in mind. So, even if it's hot enough to bake cookies on your car's dash or fry an egg on the footpath, your lawn shouldn't fade, warp or melt.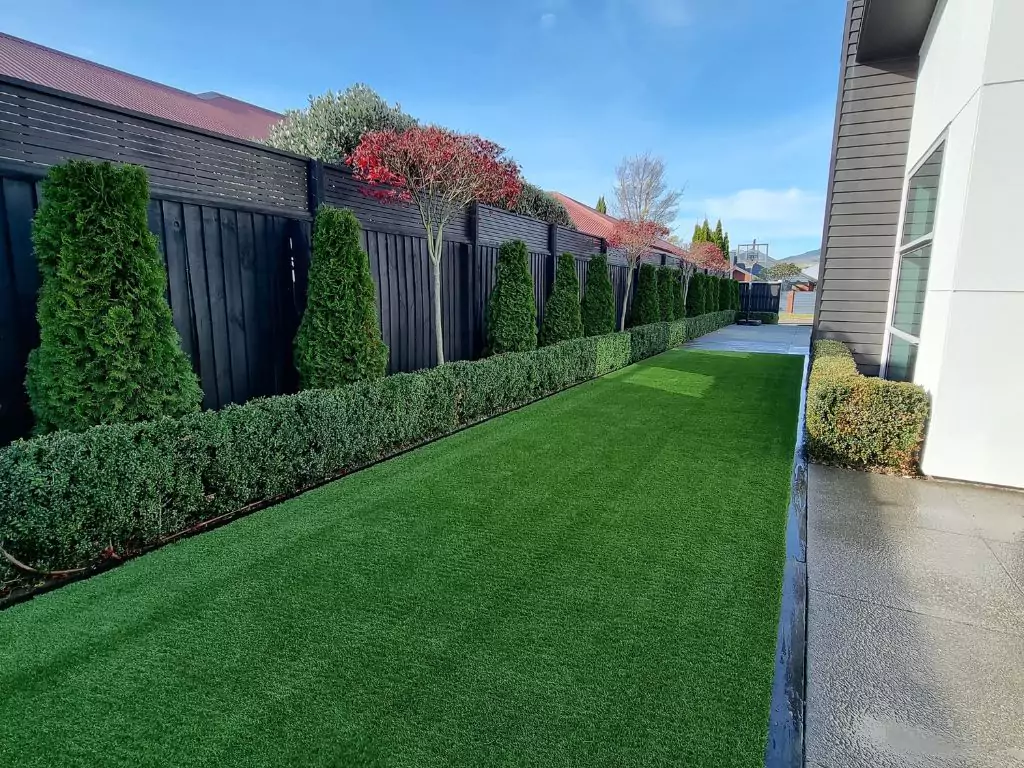 Direct sunlight; yay or nay?
Generally speaking, direct sunlight shouldn't cause any issues for your lawn! You don't have to worry about UV rays fading the luscious green of your fake grass because all of our products have a UV rating above the FIFA specifications, so there won't be any fading on your lawn.
Basically, whether you've got a small, sheltered garden with established trees to provide shade, or you're landscaping your new build, and your lawn will be exposed to all of the heat summer will throw at it, you won't need to worry about your lawn deteriorating. In fact, your fake grass will look even better than real grass!
However, you may want to watch out for any reflected sun on your fake grass. It's unlikely to be an issue in your garden, but any sun rays that are magnified through a lens could have the potential to create hot spots, and that could cause heat damage on very hot days. 
CoolTouch™ technology
CoolTouch™ is our incredible self-cooling technology. During the production process, solar absorbent materials have been added to the yarns that make up our fake grass. This allows each fibre to reflect light and heat, maximising our UV protection guarantee without looking false and shiny.
Plus, with CoolTouch™, if your lawn is uncomfortably hot during the summer, a quick spritz with your garden hose activates its cooling properties and cools your lawn down, fast. Don't worry about the water either, you'll find it will evaporate quickly and you'll be able to sit on, walk over, or sprawl across your lawn comfortably – no need for a beach towel or picnic blanket.
Fire
Fake grass is pretty amazing! And it can easily withstand hot days and direct sun, but it's not magic…
It's still important to protect your fake grass from any magnified light (like sunlight magnified through glass vases or old, warped windows), and we always recommend using BBQs and braziers somewhere away from your lawn to avoid melting your fake grass fibres with any embers or sparks. Fake grass is heat-safe, but it's not fireproof.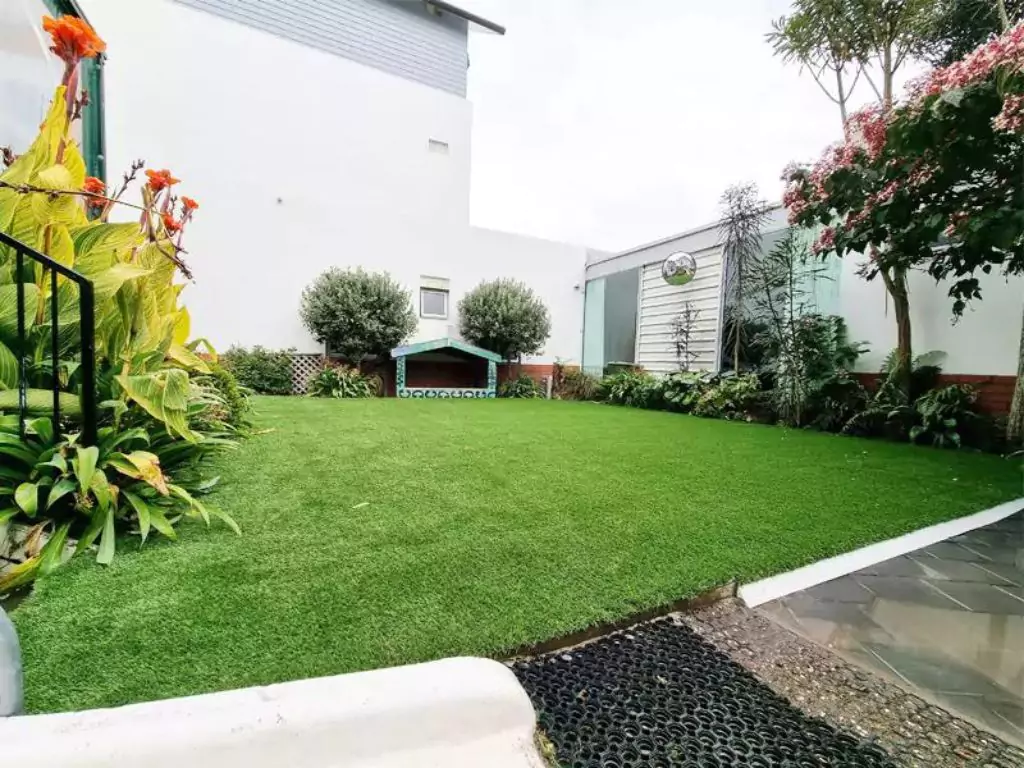 So, can fake grass handle the jandal?
All Lifestyle Lawns' fake grasses are chlorine-resistant, equipped with UV protection and CoolTouch™ technology, and come with a 10 year warranty, so you know that your lawn will handle whatever mother nature throws at it.
In short, your lawn should have no trouble withstanding the heat this summer, or any summer, for that matter. If you have concerns about how fake grass will look in your space, and how it will hold up for years to come, have a chat with our team! We love helping Kiwi families convert to the wonderful world of fake grass.
If you are planning to spend the warmer months outside, enjoying your fake grass, be sure to slip, slop, slap and wrap yourself, your little ones, and your furry friends with sunburn-prone pink noses – your lawn may be able to handle the heat better than you and your family!
…and give us a shout if you'd like to test out samples of any of our fake grass products to see for yourself how our fake grass holds up to the heat!